Les Mortimer (P/JX 323724) spent three months at HMS Collingwood, the Royal Navy shore base, at Fareham, Portsmouth, where "hostilities only" ratings were trained (right) and four months at the Mount Vernon Torpedo Training School. He shipped to South Africa from Gourack on the Clyde aboard the Queen Elizabeth which had been converted for use as a troop carrier, to join HMS Hecla, his first ship, at the Simonstown naval base near Cape Town, which was under repair after hitting a mine.

On the 11 November Les Mortimer was a lookout on the bridge when the first torpedo struck, there was total darkness and the ship listed heavily. Relieved and ordered off the bridge he went below to find a replacement for his life belt which wouldn't hold air.


"The two off-duty watches were hanging around not knowing what to do. I came across two ratings of my mess, Mess 32. They were regulars that could not read, write or swim and had been in the navy since the age of twelve and I never saw them again. I worked my way to the bow and befriended a regular Royal Navy AB who threw a rope over the bow and said 'The next torpedo and over I go.' He didn't have long to wait. A third torpedo hit and most of the crew abandoned ship as word was passed round by word of mouth. The Able Seaman said he would go over first. I lowered myself into the water to find him waiting. Then we both waited for my friend to enter the water. He panicked screaming that he could not swim and would not let go of the rope. After twice swimming back the AB told me to leave him.

There was a gaping hole in the side of the Hecla, the ship was at an acute angle filling with water and we were being dragged into the hole. Then a forth torpedo hit and when it exploded we were washed clear. We followed the AB who swimming towards HMS Marne. Ratings were climbing the nets hung over the stern and we were about thirty feet away when a 21 inch torpedo blew it off. There was a blinding explosion and we lay stunned drifting with the swell. After coming to my senses the AB said we should leave the Marne which looked as if it was finished and we swam away into the rolling swell. Then there came a fifth explosion in the direction of the Hecla. We swam through water alive with men holding onto debris and smashed life boats and came across what looked like a sub, stopping we listened to a voice calling for the name of the ship in an American accent."

We swam into the night with little idea of the time which passed before
Venomous
came into view and stopped to pick up a float full of men; she misjudged, hitting the float, spilling men either side of the ship. We swam to the nets on the stern and hung on exhausted. There came a voice from the bridge shouting 'Let go aft I have a ping'. The seamen on
Venomous
told us to jump off the net and most of us did but I hung on and so did the AB behind me.
Venomous
took off dragging us in the net. How long I was in the net I do do not know. After screaming out I was untangled, dragged onboard and thrown on deck. Afterwards thrown into the hammock rack in the seamen's mess deck to recover.
When I came to I found myself lying alongside the seaman friend that had panicked and refused to let go of the rope on
Hecla.
He was raving mad, nobody could do anything for him. We were told to leave him, he would recuperate. At first light I was helping to clear up the mess on the quarter deck near the nets when they pulled a body out of the nets. It was the able seaman I had spent the night with."

Jack Bolton
remembered this incident vividly:
"With
Venomous
at a standstill I was sent down on deck to help in the rescue. The men clutching the scrambling nets hung over the stern were so thick with oil it was almost impossible to haul them to safety. An officer on the bridge called out that they had a ping on the ASDIC and we should "let go". A seaman slipped from my hand, fell backwards with his feet tangled in the net and I heard the terrible sound of his head repeatedly hitting the ship's hull as
Venomous
accelerated away in pursuit of the prowling U-boat."
Jack Bolton, who tried to pull the AB aboard described what happened when

Venomous

accelerated away in pursuit of the U-boat.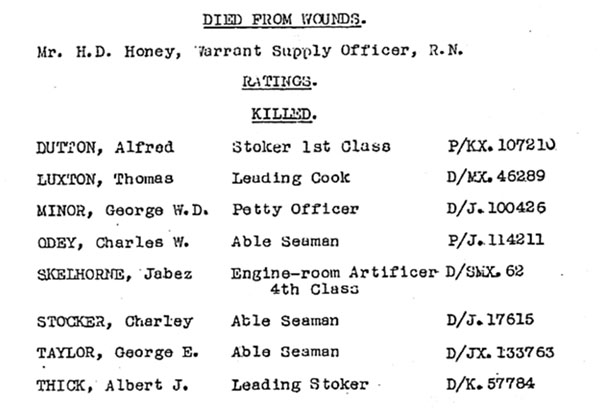 Most of those who died that night were reported as "missing presumed killed"
Only the living were brought aboard
Venomous
and only those who died after rescue and were buried at sea were reported as "killed'
Burial at Sea
By mid afternoon HMS
Venomous
was almost out of fuel and ignoring orders to head for Gibraltar just managed to make it to Casablanca soon after its capture by American forces. After two nights in Casablanca
Venomous
left on the 14 November for Gibraltar and four of the survivors who had died after rescue were sewn into canvas hammocks, weighted with shells at their feet and buried at sea from the stern
.
Cyril Hely
photographed the burial and wrote on the reverse: "Thomas Luxton, George Taylor, Charles Odey and Alfred Dutton were buried at sea at latitude 34 degree 30 minutes North and longitude 7 degrees 30 minutes west."
Lt Cdr "Harry" Alexander RN
, the Navigating Officcer on HMS
Hecla
, read the brief service.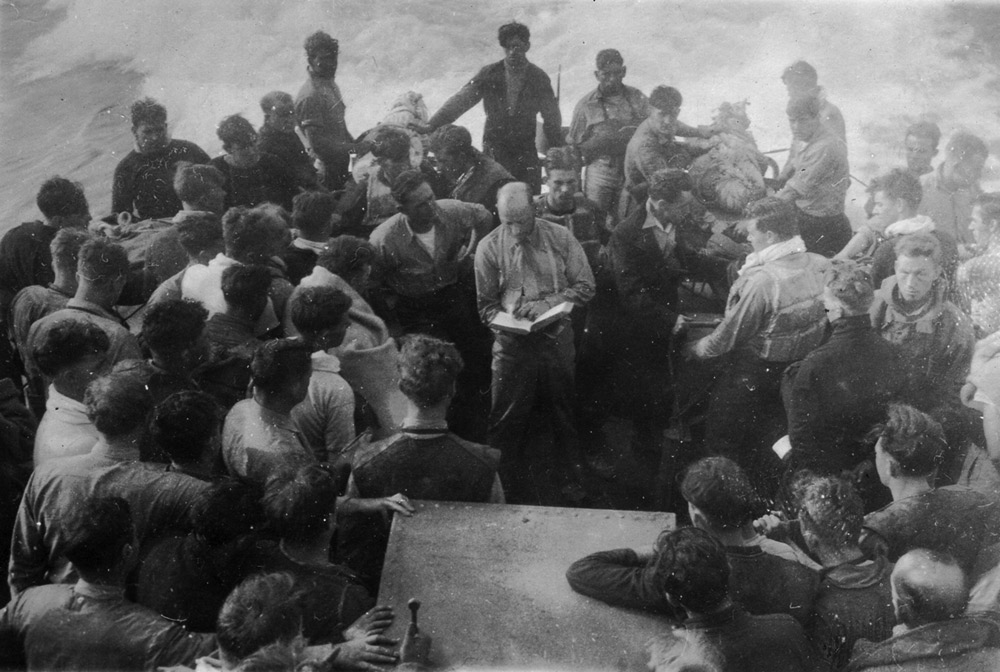 After arrival at Gibraltar another four survivors who died from their wounds were taken out to sea on a barge with volunteers from
Venomous
to bury them. The bodies of Jabez Skelhorne, Charles Stocker and Albert Thick were washed ashore on the Moroccan coast and now lie in
the Santa Catalina cemetery
in the Spanish enclave of Ceuta.
The grandsons of Albert Thick and
Jabez Skelhorne
spent years uncovering the story of how they died and Simon Skelhorne arranged for their graves to be restored by the Commonwealth War Graves Commission.
Les Mortimer did not remember the name of the AB he swam with that night
but he was old for a rating, perhaps in his forties, and called 'Charley'. There are two Able Seamen (AB) called Charley on the short list of men who died aboard HMS
Venomous
. Charley Stocker who lived for a day or two after being rescued and was buried at sea at Gibraltar but washed ashore and buried a second time in the Santa Catalina Cemetery in Ceuta, came from Blandford in Dorset and was 46,
"AB Charles Stocker (D/J17615), aged 46, son of John and Alice Stocker and husband of Minnie Stocker of Blandford, Dorsetshire" (Commonwealth War Graves Commission). Charles William Odey was 33, the son of Thomas Job and Mary Agnes Patrick Odey, of Buckland, Portsmouth. He was buried at sea off the stern of HMS
Venomous
while enroute from Casablanca to Gibraltar and his name is on the Portsmouth Naval Memorial on Southsea Common. Although only 33 Charley Odey was probably the AB who helped save Les Mortimer and became entangled in the scrambling net as
Venomous
accelerated away in pursuit of the U-boat.

After survivor's leave Les Mortimer was sent on a course at the Whale Island Gunnery School and then joined the LCT (Landi0ng Craft Tanks) being built for the Normandy landings. AB Leslie Mortimer served on LCT-703 which made thirteen trips to the Normandy beach heads. After the war he worked at Austin Motors' Longbridge plant at Oxford before emmigrating to Australia in 1948. Les is 89 and lives in an outlying district of Melbourne

where his children and grand children live.


I am indebted to his grand daughter Julie Nestic for having supplied the photographs and a typescript of this brief memoir he wrote in 1998.
His
service certificate and other documents
can be downloaded as a PDF from Australia's Department of Defence web site
The official Admiralty List of
those who died
when HMS

Hecla

sank
can be downloaded as a PDF
It contains the full name, rank, rate and service number of all those who died and those "missing presumed killed"
Return to the "Home Page" for HMS Hecla
to find out more about its history and the stories of other survivors