The story of HMS Venomous
George Gregson's story
Internment at Tost in Upper Silesia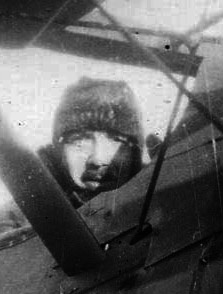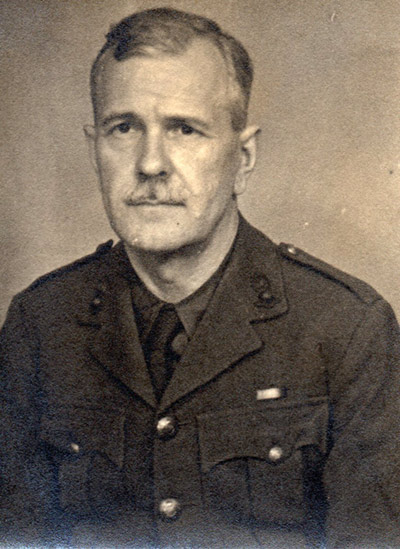 George Gregson was a prosperous businessman living with his French wife in Calais when the German blitzkrieg swept through the Netherlands and into France cutting off their escape to the south and west. He left to join the British army while his wife escaped from Boulogne aboard HMS Venomous on the 22 May 1940. Before describing his internment along with 1,130 other British subject (including P.G. Wodehouse) it is necessary to start by describing his early life and explaining how he came to live in France.

George Arthur Gregson (1891 - 1963) was born in Preston and graduated from Liverpool University with a B Eng in 1914. He was rejected by his stepmother when his father remarried after his mother's death and his record of service in the Great War gave a home address in Colwyn Bay, North Wales, and a Mrs Forrest as the person to be notified in the event of his death. He was described as a "non practising" mechanical and civil engineer specialising in automobile engineering with "motor racing experience". He became a junior officer in the 98th Field Company of The Royal Engineers, part of the 21st Division established in September 1914, which embarked for France on the 10 September 1915.

More than twenty five years later while interned in France he described in his journal an incident in June 1917 which continued to prey on his mind. The Germans had fallen back on the Hindenburg Line and Gregson accompanied by a Corporal Twizell of the 16th Battalion, Yorkshire Regiment "laid out direction tapes from the front line for an attack to be made about dawn by the Northumberland Fusiliers". They came under fire and both men were wounded, Corporal Thomas Lightfoot Twizell in the lung. The Corporal's wound healed badly and when he came under gas attack in 1918 it eventually proved fatal and he died at home on the 13 November 1919. Gregson thought he was in some way responsible for Twizell's death and the incident was brought back to mind by meeting his son while interned in March 1944.

George Gregson was attached to the RAF in August 1918 after the Royal Flying Corp (RFC) and the Royal Naval Air Service (RNAS) were merged to form the RAF on the 1 April 1918. He may have welcomed the opportunity to train as a pilot but had the war lasted longer he would probably have been posted as a non-flying engineer officer to an operations squadron. He was "under instruction" on two seater Avro 540s at 41 Training Depot Station (TDS) in London Colney to the south of St Albans and at 54TDS at Fairlop north of Ilford, both part of the South East Area Training Group (and inside London's M25 orbital motorway) and also spent some time at the RAF Armament School at Uxbridge. The photographs were taken at 41TDS which had two flight groups and an official establishment, laid down in autumn 1918, of 24 Avro 540 and 24 single seater Sopwith Snipes. He may have had a minor flying accident as he was admitted to the RAF Central Hospital from the 2 - 21 February before leaving the service on the 29 March 1919.

George Gregson was wounded three times during his wartime service in France. The loss of the little finger on his left hand was not serious but it prevented him from playing the violin. He also had a bullet wound in his right elbow and a shrapnel wound in his back, on the right.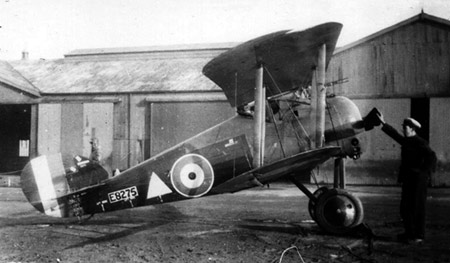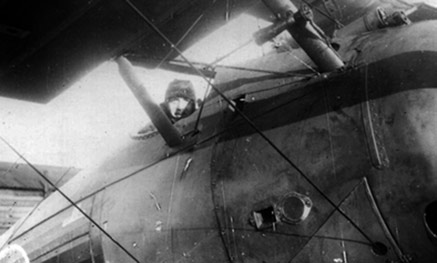 George A Gregson in the cockpit of a single seater Sopwith Snipe E8275 biplane he flew at 41TSD (London Colney) in late 1918
The Sopwith Snipe came into service in late 1918 a few weeks before the end of the Great War
Courtesy Anne Gregson
Captain George Gregson was discharged on the 29 March 1919 and not having a family decided to start a new life in France. He settled in Amiens and hired chauffeur driven cars to church groups visiting the graves of men who died in the war. He met his French wife, Gisèle Dessaint, about 1921 and they had two sons, Maurice (1925) and Dennis (1927). The family moved from Amiens to Boulogne before finally settling at Calais where George Gregson became the agent for the Automobile Association. His business prospered. As well as the family home in Calais they had a house in the country at Escalles and George owned a Rolls Royce which he hired out to tourists. Their two sons were born in France but sent to England to receive a British education at the Kings School in Canterbury. The Gregsons were wealthy members of the British community and had a good life. All of this was threatened when Germany's invasion of Poland led to war. For eight months little changed but on the 10 May German forces invaded the Netherlands, bypassed the vaunted Maginot Line and swept on into France encircling and then dividing the British Expeditionary Force. British subjects living in Belgium and northern France were trapped, cut off from the south with the only escape being by sea. If they failed to get away they would be interned as enemy aliens - just as Germans were in England.


George Gregson's tailor made him a khaki uniform (without insignia) and he left in his own car to join the British Army on the Somme. In 1943 he wrote a detailed but confusing account of what happened in the month before his return to Calais and internment.

"On Friday May l0th, at about noon, I received a message from the vice-consul in Calais saying that I had to report as soon as possible. I went into Calais to see him after lunch and told him to tell the Embassy that I would report at lunchtime Wednesday 15th May at latest.
He could not find the details of his phone call with the Embassy, but said that I was to report to the RTO at Amiens as soon as possible and in civilian clothes if necessary. I ordered a uniform from a Calais tailor that afternoon and he promised to do all he could to have it ready by Wednesday.

I spent the next four days trying to put some of my affairs in order. I left on Wednesday 15th May, in my own car, without uniform.
There, it appeared that they had expected to put me into battle-dress. But I weighed 17 stone 10 lbs and nothing would fit. I was taken round the French barrack rue Jules Barin and at St Rock, but there was no French stuff to fit me. I was arrested in Amiens for trying to buy a French uniform in a tailor's shop. Then I was sent up to the QG (?) at GHQ near Arras, but on arrival found that they were packing up and moving. So it was decided to send a motorcyclist to Calais on Saturday 18th to collect the uniform and arrangements were made by phone with the tailor to deliver the uniform to the RTO at Calais.


On Saturday/Sunday night we got orders to move to Beauvais and I was told I could take my own car. Actually I had two men in the car with me and probably there would have been no room for me otherwise.
We got to Beauvais at daylight and spent all day there hanging about. Then Capt. Morgan returned and we got orders to move to near Béthune. The same two men got into my car and when transports started moving ahead of me said that it was ours, so I followed. Actually it turned out that I had attached myself to the Pruvost Compagnie and that the road control group was behind. We went through Abbeville, Hesdin and St Pôl, particularly at Hesdin, it was hellish - no lights, roads blocked with traffic and there is no relief driver as no one was keen on taking over a left hand drive car at night. About dawn we reached a chateau and I had 2 hours sleep on the floor of one of the downstairs rooms. Then a bath. This run up to the East had given me fresh heart and I felt that it was a sign that things were going well again.

After breakfast we found that we should not have been here at all and the O.C. and another officer in 2 cars and self and C.SM in mine left as advance party for Montreuil.
Traffic hellish again: we got there in early morning, found a billet, had a meal and eventually got to billet and was just getting into bed when the O.C. rang the bell and told me that we were to move again to Desvres and that German tanks had cut the Abbeville road. I had to bin a valise there for the O.C. had no petrol and I had to be prepared to travel as light as possible and take up as little room as possible also in some other car. Then the French section gave me some petrol; I got my car, which I had had to be prepared to abandon. It was too late to get the blue valise, so I just left it with a note of my name and my Calais' address.


I was told to lead the convoy and did so: we reached Desvres at dawn and the others also soon arrived.
I went out to the forest to pick out parking places for the transport but the OC decided to stay in Desvres. Then after breakfast, he sent me off in an Army car with an MP driver, to visit G.H.Q at Boulogne.
We got there and arranged for rations, etc. with the RASC and found that the Paymaster had moved to Wimereux - no address given. GHQ was also there as the Imperial had been bombed the night before - I saw the bombing from Etaples-Neufchatel road. Fruitless hunt for the Paymaster but saw the Movement Control Officer who sent a message to the OC by me that it would be best if he came quickly to Boulogne.
Then having had permission from the OC, we carried on to the village and on arrival found that my wife had left 3 hours earlier for Dieppe by car with another French family. Returned to Wimereux, was pulled up there again on account to my uniform - I got this at Beauvais on the Sunday afternoon and it had no badges, button or indication of rank.
Was arrested again in Boulogne in the afternoon: but it was cleared up again at the APM's office in the rue de la Lampe. Then back to Desvres. On arrival I told the OC about the suggestion of the Movement Control Officer but he said that the French Commandant was in command of this Anglo-French group and that we had to follow him and not split up.
We spent the night in a bare château outside Desvres and got a meal at a café near by. Capt.Morgan, Vermon, Aston turned up later. I saw the bombing of Montreuil and Samer in the evening and was miserable for the fate of my wife. Slept on floor for a few hours though disturbed by thoughts of her plight.

In the morning of 22nd, we moved off to go to Steenworde. Found the Thérouanne road was blocked by felled trees at Desvres level crossing; so we had to take the St Omer road. I was detached to stay with the Ambulance section of the group on account of my uniform.
Eventually reached the Boulogne-St Omer road and we went on towards Lumbres. Then a halt - a long one - we got some bread and coffee in a cottage and opened a tin of bully. Eventually got the order to turn round. Drove back a few kms towards Boulogne; then turned left step down hill. Halt Officers called up to lead the column when OC said that he had been to Hazebrouck, that there were isolated German tanks and bands of infantry about, that we were to go on to join the Thérouanne road again and then turn left there to Steenworde. Personally I would have gone North and then East to Steenworde rather than South and East - particularly as the Germans were moving from the South, but opinions were not invited at all. Went on again.
Later a halt whilst a German reconnaissance plane flew over us. Then forward again. Eventually another halt in a village and sounds of bullets overhead. Saw Capt. Morgan's car turning round in the road ahead of me and he was leaning out shouting orders as the car came down the road. A sergeant with me in my car said the order was: "Disperse".
I told the men to take rifles and one bandoleer each, put on the antitheft device on my car and took a map. I did not bother about the column ahead of me for I knew that there were either 5 or 6 officers ahead of me of whom two had come back (Morgan and Vermon).
Went back about 50 yards and turned left at the Ambulance along a narrow lane with hedges both sides. Then left into a field. Other men were coming up from the rear of the column and turning right into this lane. Probably 40 men or so reached this lane and the fields.
The German reconnaissance plane began to lap round at once and dived down using its machine guns. Also heard what I thought were bombs, but which were probably tank shells, which appeared to come from the village shut.
I took 2 shots at the plane, the first from its rear and the second to my left: the hedge was too thick to get a shot as he dived. Then the plane having done his job of keeping us in order, whilst a tank was assembling prisoners, left us for good and I heard Germans shouting out "Schweinhunder Engländer". Went out of the field into the lane and found Lt Wilson wounded in throat – two men with him to the Ambulance but other said:" Lets all go; then we'll be together". I let it go at that, feeling helpless in the matter – had bestow any quality of leadership then, more men would have had a chance to run for freedom.
I did not order the men with me to fire at the plane because the CHS on the previous Saturday night when we were packing up to move from Amiens said to Morgan that many - or perhaps most - of the men had no rifle training at all.
I watched the tank, which was on the bank of the far side of the road, assemble his prisoners on the grass on the side of the road nearest to me; I saw also Morgan and Vermon standing close by; eventually the tank began to move; previously he had been keeping order by giving single shots over the prisoners' head from the turret and these shots were coming unpleasantly close to me. When he speeded up his engine and put the men to the double, I crossed the lane and got through a gap in the hedge held open for me by two men. There were 4 or 5 there. I had looked down the lane and saw a crowd of men at the corner where the Ambulance was but am quite certain that there were no wounded laying between me and the ambulance to my right or in the lane to my left.
We went through two fields and came to a third field about 40 yards square with a crop about 18 inches high. There we found the M.D., one wounded man (2 bullets in the ankle) and about 6 others.
I borrowed the stars from the MD for my tunic. He agreed with me that we could do nothing before dusk and insisted that we carry the wounded man.


Soon after I heard the tank moving - it was the first time I had heard a tank, on the move and it sounded to me as if it was in the field between us and the village and coming toward us. I signed to the men to go flat and did so myself: they just kept sitting and evidently knew better than I did what the tank was doing. When it stopped I said: "Let's go over to the far corner of the field" and did so, but only 4 or 5 men followed - those who had been with me in the lane. We went to that corner and sat down and I got the map out and began to study it.
I was about 2 yards from the men, head pointing toward the field we had come, through. I had realised my position and felt that if my uniform was such as to get me arrested by our own troops, as on the previous day, it would probably result in my being shot on sight if taken prisoner by the Germans: I had an officer's pass but this had I think a note, at the bottom that I was temporarily in civilian clothes. And I was still more anxious and worried about my wife.
Later, looking through the bottom of the hedge about 40 yards away from me, I saw what I took for 2 Germans following each other. I signalled the men behind me to be silent and to lie down, but they took little notice or did not understand. I had seen that the 2 men were not Morgan, and Vermon who were both wearing trousers.


I just got scared stiff, turned round, back to the enemy and went flat with my head level with the men; I told them to get flat and to hide their faces, as I knew that pink faces show up more than anything else. I was definitely scared stiff and showed it - utter cowardice, which has no excuse. Though I think I should have behaved otherwise, if I had not had the fatigue of the time since Saturday and the anxiety about my wife and about my own uniform. The idea of our two boys being left in England helpless and homeless with their father and mother dead was terrifying me.
Nothing happened and either the two Germans cleared off, or it was a cow – I do not think so; if it was, it only makes my position worse.
I ought to have posted the men as sentries round about instead of staying idling as a group. Continued to study the map, and to learn it by heart as much as possible.
The men told me, quite early on that men had been wounded I think in the village. I said that we could do nothing for them as they would be taken prisoners by the Germans at once and looked after by them. I jumped to this conclusion at once and did not think that anything else was possible.
Went on studying the map and also looking out through the hedges from time to time and I felt certain that there must be men in the village, who would come out, when the Germans were clear.
I decided that, as the German attack was apparently in the direction Arras - St Omer, we ought to follow such a direction towards the coast. The map shown that by going slightly west of north we would get the cover of the forest of Licques and Guines on the way to Calais. I decided on that and found that we would probably have to do 35kms during the night to be sure of being ahead of the Germans.
About dusk we moved back across the field to join the MO and the others. I ordered my men to leave their rifles as I felt that we should travel light as we had a wounded man, to carry. I did not like the men to smash them - another mistake.
We joined the others and I should talk about the direction to follow - 3 or 4 fingers to the left of the Pole star. I told the MD that we should have a job to carry the wounded man 35km but he insisted on it and it was of course agreed. I had previously counted up my cash with a view to leaving half of it with the RASC men to help out over the few days probably required before the situation straightened out again.
It was then, I think, that the CSM and other men from the village turned up; he reported X men killed and Y men wounded, saying that with our wounded men that made Z men wounded. He went on to say that my car had been taken and all the others, except perhaps one smashed up. I did not gather from his report that wounded men were still lying out. Then I think an ambulance turned up – the MD had sent a man down and the Germans had left one ambulance intact. The MD, two orderlies and the wounded men went off at once in it.
The CSM may have turned up after the ambulance had left: I cannot be sure of this. We went out of the fields on the open ground and there I gave the direction orders: my idea was to lead the party but to give them this direction in case we got split up.
In the middle of this, Capt. Aston turned up. The CSH reported to him again and I told him my idea. He agreed with the idea but said that the men must divide themselves into several groups of two or three and go for it like that. He sent such groups off at short intervals and eventually he and I were left.
Aston had a look round and then he and I left going straight across country. Later we found the men bunching up toward us but Aston said it did not matter, as he wanted to take their names. So later on, in a field on bright moonlight, he took names and sent the men off again.
Within a few hundred yards we came to a road, field on the other side and then a narrow brook. Many men were there. We crossed the brook but found that there was a wider stream fast deep and strong a bit further on with a road and houses just beyond it. Aston decided it was too risky to cross there and he took me upstream along the road; we struck off to our right toward and the straw again but touched marshy ground and also got a "Halt" from some sentry - probably German. Returned again to first field - several small groups still about there and Aston told me to wait while he spoke to them. Then he took me downstream across fields and when we had gone some distance I said "What about those men in the stream?" He replied, "I gave them their orders and in any case it is too late to go back now".
We went on and eventually crossed probably some 2 miles from the first place where we reached the stream.
Aston, who got through to England eventually, can tell our subsequent adventures and our plans.
I cannot believe it to be possible that about 22 men (of whom about 12 came from the village) would move off without a protest if they had realised that men were being left behind wounded and needing attention. Aston, I am sure, did not realise it, nor I either - we never even discussed the question during the three weeks or so we were together."

He returned to their rented cottage at Escalles eight miles west of Calais on the 15 June, exactly a month after he left to join the British army:
"Returned home, finally, very tired after a long and rather weary walk of some 27 or 30 km. With my wretched ill-fitting clothes and my uncut beard, I certainly looked very much like a tramp and my own family would have found it difficult to recognise in me their usual well-dressed Daddy."

George Gregson never received the letter his wife wrote on the 23 May 1940, the day after she reached Folkestone aboard HMS Venomous, and it was several months before he knew she had reached England safely and had been reunited with their two sons, boarders at Kings School, Canterbury.

He stayed at the cottage in Escalles for six weeks, spending his time growing vegetables and cycling into Calais to visit friends and find out who had got away. Mrs Pezron helped look after him and the German soldiers billeted with them who dragged mattresses from the house into the garage as beds did not seem too concerned when they found out that he was English.

He kept a journal, written in English, which has been transcribed by Anne Gregson, the daughter of of Denis Gregson, the younger of his two sons. The first volume of his Journal, some 20,000 words, ends with these words "These past few weeks at Escalles will probably stand out as happy ones in the future".

He had to register as a British subject at the Town Hall in Escalles and on the 26 July handed himself in to be interned. After two days his group was taken by train to Lille and interned in the Négrier Barracks until the 26 November (see volume two of his Journal) when they were transported via Berlin to their permanent place of detention, the internment camp Illag VIIIH at Tost (Toszek), forty miles north east of Katowitz (Katowice) in Upper Silesia, now part of Poland.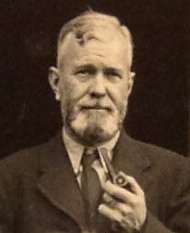 Volume three of George Gregson's Journal is a detailed and very interesting account of his internment at Tost. It provides a daily account of his own personal experience, describing the daily routine, food and his fellow inmates many of whom he knew from Calais.

The best known was P.G. Wodehouse, the comic author of books about Bertie Wooster and his butler, Jeeves, who was criticised for his Berlin broadcasts including an amusing account of the Tost internment camp. Wodehouse completed his novel Joy in the Morning, and wrote Full Moon, Spring Fever, and Uncle Dynamite while interned. BBC Four broadcast a drama "Wodehouse in Exile" on the 25 March about this controversial period in his life which hinted that the report clearing him from being a traitor was suppressed to protect a double agent, Mackintosh, a man viewed with deep suspicion by George Gregson.

The internment camp at Tost was a former barracks used as a "lunatic asylum". When George Gregson arrived on the 29 November 1940 there were 1,130 detainees and he was placed in Room 501 on the top floor with bunk beds for 72 men. Not all the detainees came from France, the first to arrive were from the Netherlands and they tended to run the Camp - to the annoyance of the French. They were, of course, all British subjects.

His rheumatism made climbing to the fifth floor difficult and on the 18 December he was allowed to move to Room 309 on the third floor where his friend Ernest Dutnall slept. He wrote in his Journal that:

"I have retained my bottom bunk and on the top one there is a big man named Burke - a real elephant of a man. He has gone through the planks of two beds up to now, so my position is perhaps one of some danger! However it is a warm room, good educated fellows in it and I am next to Dutnall and have only three floors to climb instead of five."

On the 23 December he wrote:

"Yesterday afternoon an American journalist came in to see P.G. Wodehouse, who is in our room too. He took a photo of Wodehouse and some of us, including me, grouped round P.G. and also asked me about our supper ration - Germans were of course present all the time. So, perhaps, Gisèle will one day see this photograph in the paper - I doubt she will recognise me."

This photograph and interview by Angus Thuermer published in the New York Times on December 27 1940 eventually led to the release of Wodehouse and his broadcasts from Berlin to America in July 1941 describing his internment. Their subsequent broadcast to Britain, done without his consent, nearly led to him being put on trial as a traitor after the war and he never lived in Britain again.
Gregson was often critical of Wodehouse. On the 26 February 1941 he wrote in is Journal "we hear that P.G. Wodehouse has - through interviews - told the world what a splendid place it is and how well we are treated, etc ...! Well, two days ago he told Dutt that he did not mind which side won as long as the war finished soon - and that shows his mentality as a so-called Englishman." But on the 2 March he changed his table at meal times and wrote "am now on the same as Wodehouse, Webb, Davies, Rainey, [Tom] Sarginson, Dutnall, Youl, Pickard and Baryball. Much better in every way."

Tom Sarginson was born in Paris and brought up in France by his English father and French Mother. He was a mechanic in the Royal Flying Corp during the Great War and returned to France in 1926 as the electrical engineer at Courtauld's newly opened rayon factory in Calais, Les Files de Calais SA. Despite having an English wife, Nell, and three young daughters he thought there was no need to "panic" and return to England. He was interned leaving Nell to look after their daughters on her own. The youngest, Jeanne Gask, tells Tom's story on this web site and the story of "Nell and the Girls" in a book to be published in May 2015.

Wodehouse was released from Tost with a fellow internee, Macintosh, who George Gregson disliked and mistrusted. On the 30 March 1941 Gregson wrote:

"I don't trust him any longer. Supposedly a professor of comparative theology at the university of Hong Kong, picked up whilst "on holiday" at Boulogne, he seems to have achieved popularity with the lower elements by a liberal use of their vernacular and by being very anti-German in his behaviour. Now, however, he appears to be turning "Yes-man" to the Germans. I may well be mistaken of course: there are many mystery men here and one learns to trust no one and keep ones mouth shut. My mistrust, however, is based on the fact that he was the principal instigator of the decision to let 1,000 odd men have 2 Red Cross parcels each and let another 100 go empty; and that later when I wanted to run an exchange office free for all, so that men could get in touch with each other for exchanges of food and clothing, he adopted the role of an unselfish purist and said that no exchanges ought to be made but that men should give away articles they did not want. Such an altruistic attitude coming after the previous attitude, has aroused my suspicions."

The Macintosh referred to is believed to be Noel Macintosh, born at Southease in East Sussex on the 20 December 1885 and arrested at Boulogne on the 10 July 1940. He is probably the Noel Macintosh who was released with P.G. Wodehouse and stayed with him for a few days at the Adlon Hotel, Berlin, and may have helped persuade him to make the broadcasts which led to Wodehouse's self imposed exile in the United States.

The Commander of Illag VIII arranged for the internees to be photographed in groups to show how well they were being treated. The photograph below was probably taken quite early when they still had some respectable clothes to wear. The men in the front row have clean handkerchiefs in their top pockets, flowers in their lapels and have even polished their boots.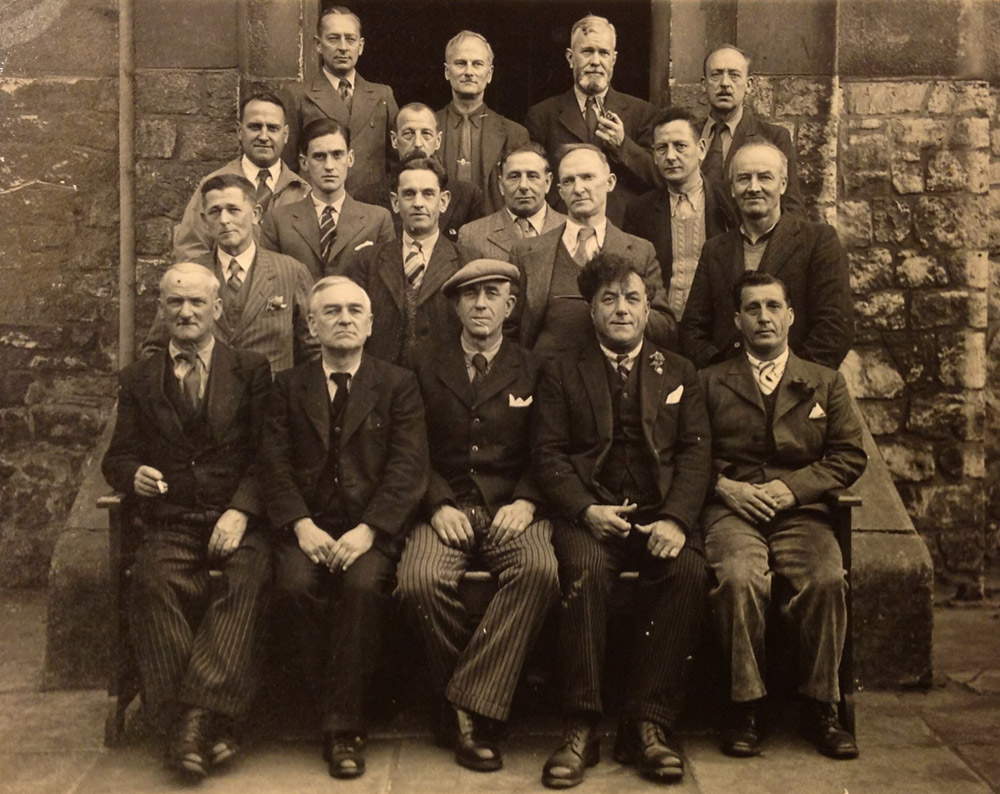 George Arthur Gregson, with pipe, is third from left in the back row in this photograph taken at the Tost Internment Camp soon after his arrival
From left to right, back row: Sarginson, West, Gregson, Goard
Second row: Rainey, Yule, "Stock Keeper SO" (name not given), Pegrum Third row: Pauline, Ernest Dutnall, Harold Ratcliffe, Londoy
Front row: Perry, "chemist SO" (name not given), Lockwood, Larkin, Oliver Holding
Courtesy of Guy William Ratcliffe son of Harold Ratcliffe

There is a break in the journal between the 31 May 1941 and the 2 November 1943. When it resumes he seems a completely different person, paranoid, subject to delusions and obsessed with the belief that his fellow internees are convinced he is a coward who abandoned his comrades while he was with the British Army in May 1940. He wrote an account of the events in May 1940 which appear to have given rise to his delusions in his journal - see above. This is detailed but rather confusing and not entirely convincing as an accurate description of what happened. The change is sharp and inexplicable but he has an insight into his own condition and is aware that his beliefs are not altogether rational.

Eventually, however, he persuades the camp authorities to treat him as a Prisoner of War (POW) rather than an internee and transfer him to Stalag VIIIB at Lamsdorf, the largest POW Camp in Germany, where he feels he rightly belongs. On the 1 July 1943 George Gregson was moved from the Stalag hospital to the German civilian asylum, Heil und Pflegeanstalt, at Loben.
Alarmed by the tone of his letters Gisèle wrote to the Red Cross on the 4 December 1943 (and again the next day) and received a reply from Miss E.M. Thornton OBE, the Director of its Prisoner of War Department at St James Palace, London, on the 23 December which quoted from the report of the doctor who had been treating him at Illag VIIIH (Tost):

"Mr Gregson had been in a distressed state of mind for some months so it was decided to give him a change of surroundings and the advantage of a thorough medical examination and treatment by sending him to another hospital which is at Stalag VIIIB Lamsdorf. This was done in June."

A further letter from Miss Thornton on the 10 February 1944 quoted from the report of the doctor at Stalag VIIIB, Captain J.A. Mulligan RAMC:

"Mr Gregson was admitted here on the 5.6.1943, and on the 1.7.1943 he was transferred to a special hospital for nervous disorders. I saw him there on the 4.11.1943. He has lost a lot of weight in the last three years but now appears to be retaining his weight at a reduced level. He eats well and has no bodily complaints. He has, however, delusions of a persecutory nature, which give him great worry and keep him physically over active. Apart from these delusions he talks quite naturally, and takes a keen interest in his surroundings. He is very worried about his family, and is afraid that his past actions may harm his sons career."

He was classified as "DU" (Definitely Unfit) by the International Medical Commission which meant that he was likely to be included in any future repatriation of civilians. A final letter from Miss Thornton on the 23 February 1944 thanked Mrs Gregson for the cheque for 10/- she sent to support their work, cautioned against expecting her husband's early repatriation and expressed her pleasure at learning that her son was enjoying "his new career as a cadet" and added "it will give great pleasure to his father to know that he has joined an officers training unit".

On the 27 June 1944 he left Loben for the internment camp at Kreuzberg (Ilag VIIIZ) and a week later went by train to Vittel in southern France. The fouth and final volume of his journal begins on the 2 November 1943 at Loben and ends on the 29 July 1944 while on the train from Vittel to Lisbon in neutral Portugal with the words "I wish I could think clearly!" On the 5 August he was repatriated to Britain leaving Lisbon on the SS Drottningholm for Liverpool where he wrote to his wife from the City of Liverpool Hospital in Walton.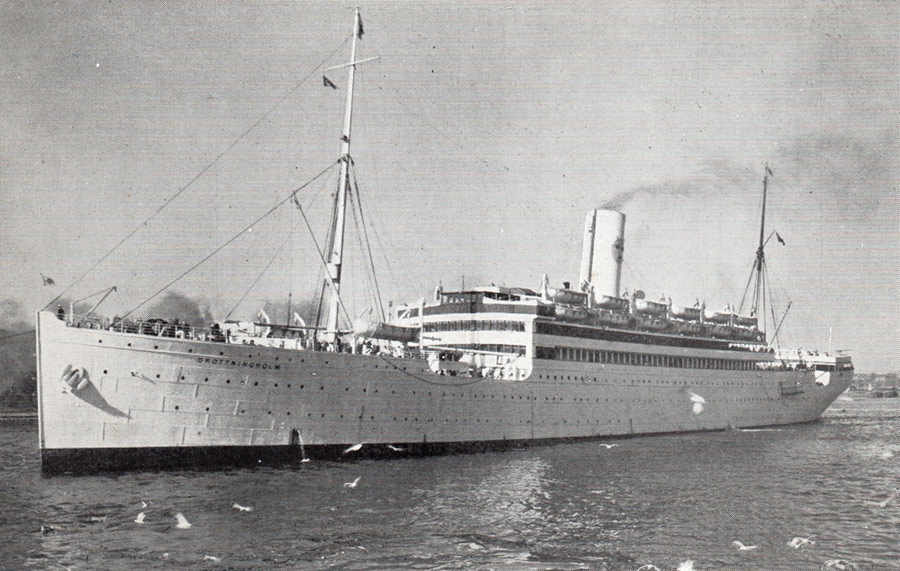 A prewar postcard of the SS

Drottningholm

, a paasenger liner belonging to the Swedish American Line, which repatriated officials, civilian internees and POW
Courtesy of Anne Gregson
Gisèle described him "as being almost mad" but once he was reunited with his family he made a good recovery and not long after the war ended they returned to their home in Calais and he once again became the practical hard working businessman supporting the family. His two sons assumed joint control of the business when he retired, one running the office in Calais and the other the office in Boulogne. The events of May 1940 had a dramatic effect on all of them but it did not destroy the family. George Arthur Gregson was 72 when he died at Calais in 1963. His wife lived another twenty years and was 81 when she died in 1985. Their grand daughter Anne Gregson has seen their stories are not forgotten but regrets not having asked more questions about this critical period in both their lives. Some parts of her Grandmother's letter and her Grandfather's journal are likely to always remain obscure.

A new edition of Les Oublies de 39-45: Le Rafle Des Britanniques (The Forgotten of 39-45: the Roundup of the British), Frédéric Turner's biographical dictionary of British subjects interned after the fall of France, containing 600 pages and 2,300 entries was published in April 2013 and can be ordered direct from the author.
You can read Anne Gregson's French translation of her grandfather's Journal on Pierre Ratcliff's site
Read about Gisele's escape to England aboard HMS Venomous on the 22 May 1940
Read the story of Tom Sarginson's internment and what happened to "Nell and the Girls"
Return to the Evacuation of British citizens from Calais in May 1940
The story of HMS Venomous is told by Bob Moore and Captain John Rodgaard USN (Ret) in
A Hard Fought Ship
Buy the new hardback edition online for £29 post free in the UK
Take a look at the Contents Page and List of Illustrations
'Un livre captivant dont on ne peut que saluer la quantité et la qualité des recherches entreprises par les auteurs.
Un must pour tout lecteur intéressé pas l'histoire navale de cette période.'
39/45 Magazine

(Editions Heimdal)
---
Holywell House Publishing
88 Holywell Hill, St Albans, Hertfordshire AL1 1DH, Britain
http://holywellhousepublishing.co.uk
Telephone: +44 1727 838595
contact online
---