The story of HMS Venomous
Fred "Slinger" Woods
MX80116, Dental LSBA (Leading Sick Berth Attendant), HMS

Hecla
Fred Woods was born at Warrington, Lancashire, in 1922. His father worked on the Manchester Ship Canal, operating the bridges and lock-gates. Fred left school at 13 and found work as a bread lad on a horse and cart. Later he worked in the steel industry for Rylands as a clerk.

When Fred volunteered for the Royal Navy in November 1940 he was rejected at first due to a childhood injury to his hand but a Chief Petty Officer suggested that he might like to join the Dental Branch. He did his initial training at Skegness followed by a course as a dental technician at Devonport and was drafted to HMS Hecla in January 1941 soon after she was commissioned while stationed off Greenock on the Clyde. HMS Hecla spent most of 1941 as the destroyer depot ship at Havelfjord in Iceland repairing the destroyers escorting convoys to Canada and returned to Greenock for a refit early in 1942.
It was here that two dental surgeons, Surgeon Lt (D) K. Rees LDS and Surgeon Lt (D) A. McPherson RNVR LDS, joined HMS Hecla as members of the Dental Branch of the Royal Navy. "Slinger" Woods recalled the names of the SBA(D): "The Dental Branch included LSBA (D) Arthur Bullock, LSBA (D) and myself who worked with Surgeon McPherson. The other section of the Dental branch was Dental Mechanic A. Moncrieff and PO Dental Mechanic Brian Collings."
Hecla left Greenock on the 15 April 1942 as part of Convoy WS.18 "outward bound" for South Africa to join the Far Eastern Fleet, a welcome change from the tedium of Havelfjord. Disaster struck when she hit a mine of Cape Agulhas on the 15 May and limped into Simonstown where she spent several months under repair, for most of her crew a wonderful break from seaboard routine. HMS Hecla left Simonstown in October and headed North in to support the ships landing troops on the invasion beaches at Algeria and Fred describes below his memories of what happened when Hecla was torpedoed on the night of the 11 - 12 November 1942.
**** **** **** **** **** ****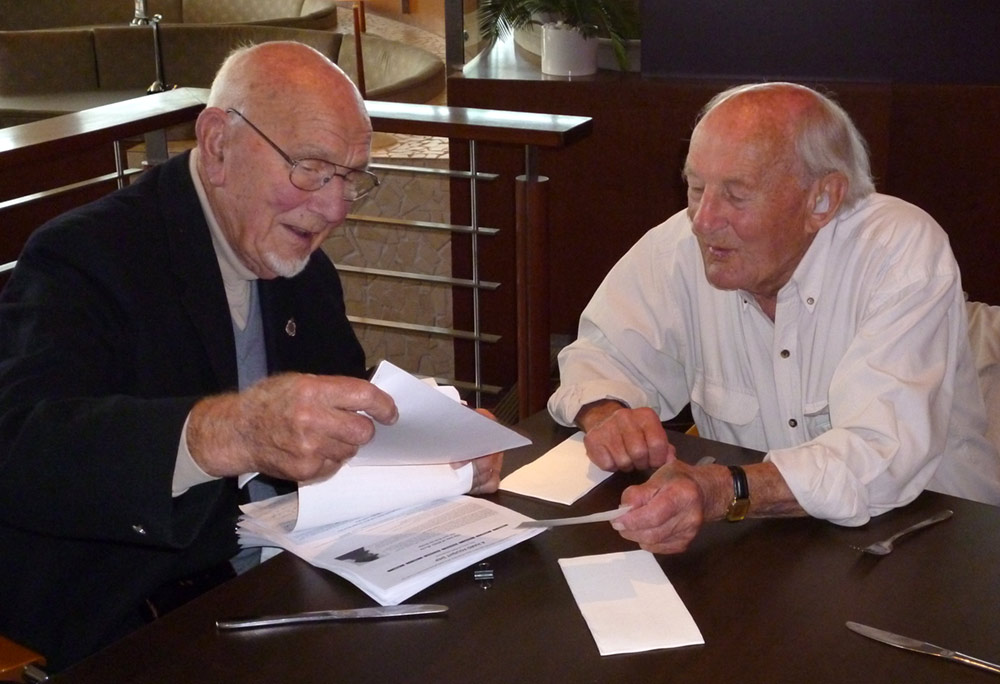 Fred Lemberg (on right) and former LSBA (D) Fred "Slinger" Woods who met in Australia
in August 2013
to reminisce about HMS
Hecla
Courtesy of Jeni Lemberg
It was very pleasant indeed to meet my shipmate friend Fred Lemberg and his family. My wife and daughter Lorraine accompanied me from the Blue Mountains to Harbord RSL Club, north of Manly where we gathered together for a meal and Fred and I had a good "natter" about our time aboard HMS

Hecla.



Fred's description of the night, 11th November,1942, when we were torpedoed is very accurate. We must have been close to each other when abandoning ship. I, with my dental "oppo", Arthur Bullock, and Leading Supply Assistant, Eric Wood, gathered together in the well deck flat. It was crowded and the gangway to the upper deck was blocked. Here, Eric decided to go down below saying he wanted something from the storeroom. I fortunately had a torch that was issued to me as part of being a member of the decontamination squad. Arthur and I decided we should try to go alongside the stoker's mess deck and find an escape route to the upper deck near the forrard guns. We were lucky and were making our way "aft" along the port side when we stopped suddenly on the edge of a gaping hole. We then decided to retrace our steps and go to our abandon ship station, on the starboard side. Eventually we made the well deck. At this time the "Marne" put on her searchlight, obviously to see her way clear to come alongside. However the light was switched off quickly and Arthur and I parted. I then used the gangway to the boat deck, thinking it would be ideal to float off the Hecla in the liberty boat. It was dark and everything was well and truly secured. Time was running out, so I returned to the well deck to make my way aft. Here again the Carly Floats were still secured. It was then that I passed a group of officers and always remember hearing the
Paymaster Captain
saying, "I was never very fond of aquatic sport". Still going aft I looked over the rail and saw the unmistakeable sign of another torpedo heading straight towards us. It blew a huge hole in the side. I was absolutely drenched and then decided it was time to forget about anything floatable and take my chance "in the drink".

I was determined not to jump, as at that time the stern was rising. A rope was lowered from above, but it was not secured, so I looked around and eventually found a rope that was tied to the rail. I then hopped over the side and lowered myself, only to find a bald-headed chap at the bottom, clinging on, saying he couldn't swim. I said, " You'll have to let go and make sure your lifebelt is inflated". The

Hecla

was then wallowing and I found myself under the propellers. Being a good swimmer, I thought it wise to swim sideways to clear the ship. Here I wasted a lot of energy, as the suction kept dragging me backwards. I gave up doing my crawl stroke and found myself drifting with the current clear of the stern and joined other survivors. The few Carly Floats that had been released were overcrowded. In the meantime the

Marne

had been torpedoed and I wondered how my "oppo" Arthur had fared. It was then I decided to do another swim for the

Venomous

, which was a dark ghostly outline in the darkness. Of course the

Venomous

had to keep moving and I found myself, absolutely exhausted, well clear of the

Hecla

and

Venomous

. By this time I was so tired I thought my time was up. I could see the

Hecla

in the distance, sinking "stern first". I said goodbye to the

Hecla

and my family, not forgetting our family dog. It was in a way, peacefully content to lay on my back with the help of my Pusser's lifebelt, which was the half round type. It was at this time that I felt a bump on the back of my head. It was a spanner-raft ( I think that is the correct name), a square small contraption with rope attached. I felt this was a sign for me, so I pulled myself across it, vomiting due to the fuel oil, that I must have swallowed during the swim.

Later on a voice called out in the darkness saying "Do you mind if I join you"? Of course I didn't mind and we both clung on not saying much to each other. We seemed to have drifted around for ages when salvation appeared in the form of a chap standing at the stern of a holed boat. We asked could we join him and the others who were in the boat. I don't know what the reply was as we just drifted in board and even though we sat down, were still up to our waists in water! All I wanted was to close my eyes and sleep as by that time exhaustion was overtaking me completely. The chaps in the stern wanted us to bail out the water. Of course it was fruitless and we stopped trying. During this time in the darkness of the night a voice cried out and I think I was trying to push the "spanner raft" out towards him, but all I can remember is the hand disappearing. The next incident, still in the greyness, was the appearance of what I thought was a huge whale! I even had a small piece of timber to beat it off with. There was a rumbling sound and over the years I have come to the conclusion that it was the conning tower of the German U-boat, running on his electric motors, as it passed by in a straight line. I believe a crewman of the U-boat did mention, in an interview years later, that they did surface during the night. At times we were close enough to the

Venomous

that we thought rescue was imminent. As we had no oars , we had to be content that the

Venomous

was doing the right thing, by keeping on the move.

It was well into the next day that we were picked up and scrambled up the nets to be welcomed by the gallant

Venomous

crew and the survivors that were aboard. I headed for the fo'csle and got my head down. Later, a torch light was flashed in my eyes, possibly to check I was still alive. Later the

Venomous

pulled alongside the

Marne

, hoping to obtain fuel. I don't think it was able to be transferred. In that short time I waved to Arthur Bullock and Dental Officer, Surgeon Lt Rees, who had managed to be saved by the

Marne

, goodness knows how. I was pleased to see them.

I remember very well being given a tot of neat rum and a tin of corned beef, using the bottom of the tin as a spoon to eat the meat. A seaman of the

Venomous

gave me a duffle coat and I used the deep pockets to store the corned beef and lid for later snacks!

Fred Lemberg has described the dash to Casablanca, where we were treated in the most friendly fashion by the American Navy lads . Later, at Gibraltar, we boarded the

Reno-Del Pacifico

, landing in Greenock in Scotland, then being transported to barracks in Devonport. After Survivor's Leave I returned to Devonport and was later drafted to HMS

Impregnable

, a training establishment for Signallers and Radio Telegraphists. In 1945 I was drafted to HMS

Golden Hind

in Australia to join the British Pacific Fleet serving as a Petty Officer on the Dental Branch of the C in C Staff. Then the atomic bomb was dropped in August 1945 and the war ended suddenly. In Australia, I had met a young lady and we married in 1946. I volunteered for an extra twelve months service in the Navy and in March 1946 was drafted to Hong Kong. I was finally discharged in 1947 to resume my pre-war job as a clerk in the steel industry in Warrington, England. My wife and I, like thousands of others, found difficulty in finding suitable accommodation and so we decided to migrate to Australia in 1949. I obtained a position in the wages section of a large brewery, serving nearly 30 years before retiring.

My wife and I settled in the Blue Mountains in 1981, to be close to our daughter, Lorraine, whilst my son Bill, with his wife and family settled in Queensland and now reside in northern New South Wales.

To conclude, the
Paymaster Captain
and the leading Supply Assistant, Eric Wood did not survive. I was best man at Arthur Bullock's wedding in 1943. He and his wife have since passed on. It was difficult for me to tell the family of the event that led to the death of Writer Joseph Williams, when the

Hecla

struck mines in May 1942, off the Cape of Good Hope, where we lost 23 crew members. Joseph was from the same township as myself. With the sinking of the

Hecla

, in November, I think the figure of those who did not survive was close to 285 crew members. 1942 was a desperate year. Many chaps suffered a great deal, but by 1943 the tide began to turn. For me, I was just another bloke who volunteered in 1940.

We have had quite a number of reunions of the sailors and families of the

Hecla, Venomous

and

Marne

at Stratford-on-Avon and Solihull. It was good to meet again and we enjoyed each other's company.

All the best and "Up spirits",
Fred "Slinger" Woods


Return to the page about the members of the Sick Bay team or the "Home Page" for HMS Hecla
to find out more about its history and the stories of other survivors
---
Holywell House Publishing
88 Holywell Hill, St Albans, Hertfordshire AL1 1DH, Britain
http://holywellhousepublishing.co.uk
Telephone: +44 1727 838595
contact online
---