Naval Signals received and sent by HMS

Venomous

on the 31 May 1940
during the evacuation of troops from Dunkirk,
Operation

Dynamo
For a detailed description of the part played by

Venomous

see

A Hard Fought Ship


for a comprehensive account of Operation

Dynamo

see

The evacuation from Dunkirk: Operation Dynamo, 26 May-4 June 1940
;
W. J. R. Gardner, Great Britain. Admiralty. Historical Section
The evacuation began on the 27 May while HMS Venomous was under repair at Plymouth and by the time Venomous arrived at Dover at sunset on the 30 May the inner and outer harbours were partly blocked by sunken ships and the Mona Queen which Venomous had rescorted to Boulogne on the 22 May had hit a mine and sunk with great loss of life amongst the Isle of Man crew. Between the 31 May and 4 June when the evacuation ended Venomous made five trips to the eastern mole, the breakwater at the entrance to Dunkirk harbour, and the beaches at La Panne and Dune Bray and brought back 4,410 soldiers. The names of all the officers and men on HMS Venomous in May 1940 can be seen as a PDF.


Eric Pountney was a Wireless Telegraphy Operator on HMS Venomous from August 1939 to October 1943. He kept copies of signals received or sent during the evacuation of the Welsh and Irish Guards from Boulogne on the 23 May 1940, one of the most dramatic events described in A Hard Fought Ship, and during the evacuation of the troops from the North Mole and beaches near Dunkirk on the 31 May - see below. They record events as they happened. The time at which signals were sent used the 24 hour clock (without punctuation) followed by the date if this could be in doubt.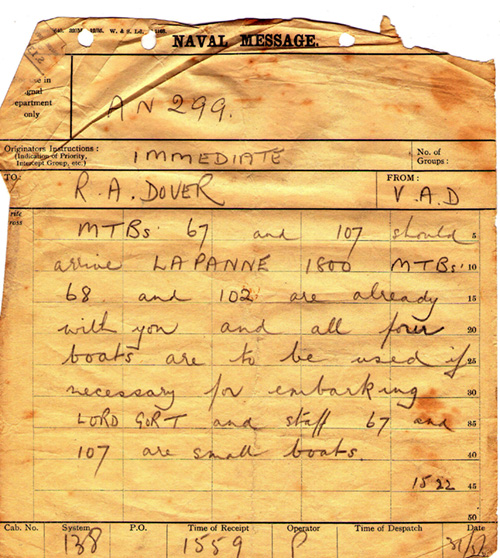 It is important to note the difference between the time at which a signal was sent and the time it was received. For example, this signal was sent by Vice Admiral Bertram H Ramsay RN (VAD) to Rear Admiral Wake-Walker (RAD), SNO Dunkirk, in HMS Keith at 1522/31. It first went to the Dover WT office and was transmitted in morse code, probably on a broadcast read by all ships. The messages were encrypted before transmission and decrypted on arrival which explains the delay before the signal was received by HMS Venomous at 1559/31. HMS Keith was lost the following day.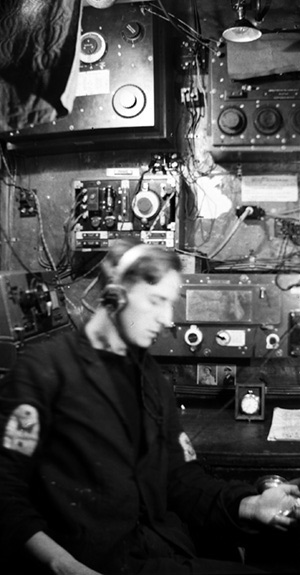 Naval Signals from Dunkirk
Operation

Dynamo,
the 31 May 1940
Friday 31 May 1940
0320
Immediate
From: Ivanhoe To: VAD
RA Dover from SNO.
Request more ships to load at Dunkirk.
01320
Important
From: RA Dover To: Keith
Where are you. Have you any troops onboard.
I am in Express off LA PANNE.
0530
From: Shikari To: VAD
Leaving coast 600 troops onboard.
Proceeding slowly have dangerous wounded cases onboard.
0607
From: Venomous To: VAD
E.T.A. 0800 with approximately 1000
0813
From: VAD To: Venomous & Whitchall
From which beaches did you get your troops
0813 (Sent 0915)
From: Venomous To: VAD R Whitehall
40 only from La Panne beach remainder from Dunkirk jetty.
0855 (rec. 0942)
From: VA Dover To: RA Dover Rptd SNO Dunkirk
If conditions require please deflect a proportion of the most easily manoeuvrable shipping to DUNKIRK to keep DUNKIRK working at full capacity
0914 (Rec. 1100)
From: ?? To:
The Policy of HM Govt is that both British and French troops be given equal opportunities for being evacuated in British ships and boats
0957 (Rec 1119)
From: ? To: ?
LORD GORT has agreed that 5,000 french troops should be embarked this evening after Dark in British vessels request necessary ships may be sent to arrive ???
Field Marshal John Standish Surtees Prendergast Vereker, 6th Viscount Gort,
VC, GCB, CBE, DSO & Two Bars, MVO, MC (1886 – 1946), was a British and Anglo-Irish soldier. As a young officer in World War I he won the Victoria Cross at the Battle of the Canal du Nord. During the 1930s he served as Chief of the Imperial General Staff (professional head of the Army). He is most famous for commanding the British Expeditionary Force sent to France in the first year of World War II, which was evacuated from Dunkirk. Gort later served as Governor of Gibraltar.
Wikipedia.
1419 (Rec 1429)
From: ? To: Dover W/T
HELP DUNKIRK
1517 (sent 1525)
From: Venomous To: R.A.D.
Have approx 200 military onboard
All my 4.7 HE is expended expect 6 m…..
Propose returning to replenish & land Military
1522 (Rec 1559)
From: VAD To: RA Dover
MTBs 67 and 107 should arrive LA PANNE 1800 MTBs 68 and 102 are already with you and all four boats are to be used if necessary for embarking LORD GORT and staff 67 and 107 are small boats
System: 138 Time of receipt: 1559 Operator: P Date: 31/5
Lord Gort boarded HMS
Keith
in the early hours of Saturday 1 June but transferred to
Motor Ant-Submarine Boat (MA/SB) 6
before dawn and was taken to Dover by her and not on the MTBs dispatched by Ramsay or on the minesweeper, HMS
Hebe
, as widely believed. Before leaving France Lord Gort handed over command of the BEF to General Alexander who along with General Percival was brought back to England by HMS
Venomous
on the 2 June.
When HMS
Keith
was badly damaged the following day by bombing (and later sank) "Rear Admiral Wake-Walker transferred to MTB 102, using her as his flagship for the last two nights of the operation directing the incoming and outgoing vessels at Dunkirk from the bridge. As she carried no Rear Admirals flag, one was created with an Admiralty dishcloth and some red paint, allowing her to fly the appropriate flag."
MTB 102
has been restored to its wartime condition by the MTB 102 Trust and is in regular use around the coast during the summer months.
1600 (Rec 1623)
Immediate
From: Havant To: Admiralty & VAD
There is no difficulty in destroyers going alongside in DUNKIRK harbour. Many troops are waiting there. Embarkation from beach is slow by comparison.
System: 575 Time of receipt: 1623 Operator: OT Date: 31/5
1716 (Rec 1720)
From: D20 To: Dover W/T
Heavy bombing at La Panne
System: 515 Time of receipt: 1720 Operator: Q Date: 31/5
1730 (Rec 1751)
From: Malcolm To: Dover W/T
Shelling Bombing Dunkirk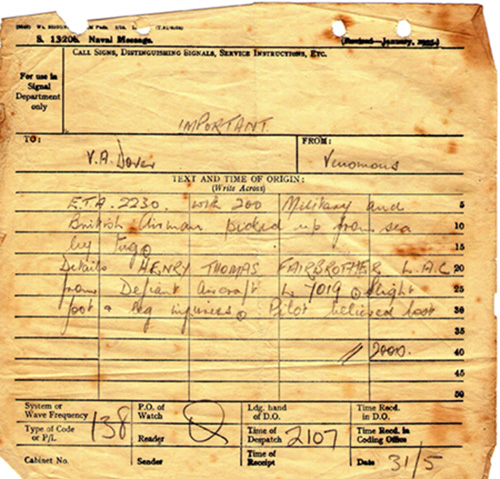 2000 (sent 2107)
Important
From: Venomous To: VA Dover
ETA. 2230. with 200 Military and British Airman picked up from sea by tug.
Details HENRY THOMAS FAIRBROTHER L.A.C. from Defiant Aircraft L 7019.
Slight leg and foot injuries. Pilot believed lost.
Leading Aircraftman (Air Gunner) Fairbrother
of 264 Squadron RAF Manston, bailed out after plane was damaged in combat.
P/O R.W. Stokes survived and crash landed the aircraft, the controversial turret-armed Boulton-Paul Defiant, at Manston.
This was reported as being on the 29 May and it is not known why Air Gunner Fairbrother parachuted out over Dunkirk.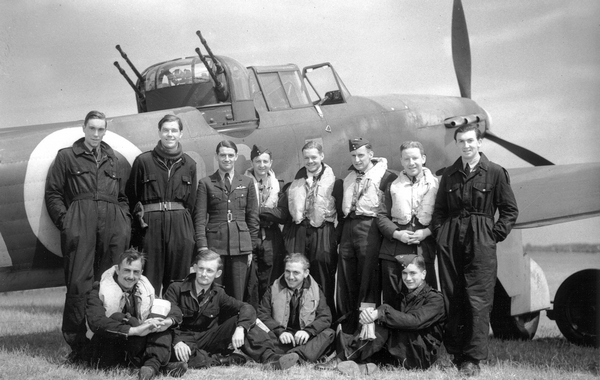 Pilot Officer R.W. Stokes is on right in front row
Defiant pilots and gunners after their day of greatest success over Dunkirk.
Back row : Pilot Officer G.L. Hickman, Flight Lieutenant N.G. Cooke, Squadron Leader P.A. Hunter, Pilot Officer M.H. Young, Pilot Officers G.H. Hackwood, E.G. Barwell, S.R. Thomas & D. Whitley.
Front row : Sergeant E.R. Thorn, Pilot Officer D.H.S. Kay, Sergeant A.J. Lauder, Pilot Officer R.W. Stokes.

Saturday 1st June


1258/1
Most Immediate
From: Whitehall To: VAD
Basilisk sunk west deep am picking up survivors
HMS
Basalisk
was sunk by air attack off La Panne on 1st June, HMS
Whitehall
attempted tow but after further bombing
Basalisk
sank. Wreck destroyed by gunfire from
Whitehall.

Naval signal from Vice Admiral B.H. Ramsay RN (VAD) to all destroyers received by HMS Venomous at 1052 on the 3 June 1940
Retained by First Lt Angus A. Mackenzie RN as a souvenir

From the private papers of Lt Cdr Angus Mackenzie RN
1052/ No date
From: Vice Admiral Destroyers (VAD)
To: Destroyers
I had hoped & believed that last night would see us through but the French who were covering the retirement of the British rearguard had to repel a strong German attack & so were unable to send their troops to the pier in time to be embarked. We cannot leave our allies in the lurch. I must call on all officers & ...
... men detailed for further evacuation tonight to let the world see that we never let our allies down. Approach will be made later & retirement earlier. The night protection of our fighters which stopped all bombing on the harbour last night will be repeated.
The final evacuation is staged for tonight and the nation looks to the navy to see this through ... I want every ship to report as soon as possible whether she is fit & ready to meet the call which has been made on our courage and endurance. 1052