"SOME WAR INCIDENTS 1939 Sept 4 to 1945 to May 8, with Germany "
"War clouds in the air"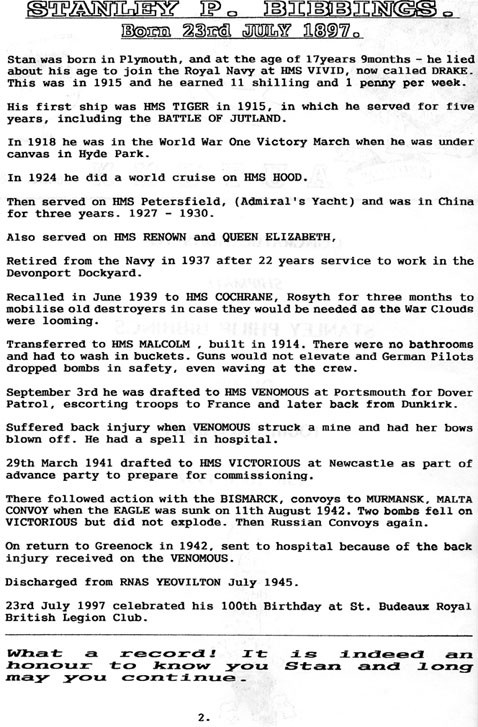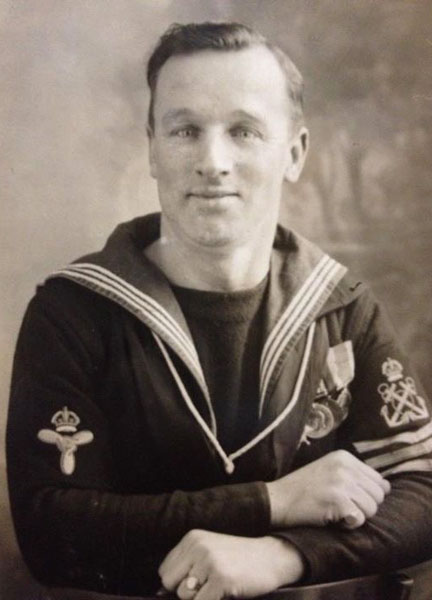 "Recalled to the Navy on 15th June 1939. Sent to Rosyth Dockyard to look after destroyers on the reserve list. I was detailed for HMS Malcolm. In August the destroyers were mobilized and went to Portland for Kings review. We said then War was very near. On Sept 4th. It happened. War was declared on Germany for attacking Poland. Owing to Malcolm being a Portsmouth Boat I was transferred to HMS Venomous at Portsmouth. The Venomous being a Devonport Boat.

We then was stationed at Portsmouth. Our job was to escort troop ships to France. We took on board all Staff Officers and Gen Gort to France. Landed them in Cherbourg. Every day troops was going over to Cherbourg Dieppe and Brest. The Germany started to overrun Holland, Belgium and then it started. They took everything before them.


The Dover Destroyers were sent to Norway. We had to come to Dover to take over. We were old boats built in 1914 and not quite fit for the task. Our first job was to rush troops to Hook of Holland to try and hold the air fields. We landed the troops alright but we got bombed all the way out to sea. Lucky some of our planes arrived and beat our attackers off. We was sure getting it. We never seen the troops again. Gerry had captured it next day. We took troops to Flushing, Ostend, Calais as fast as we could. Then we had to take Naval demolitions parties over to the Harbours in front of the advancing German to blow up bridges and sink any ships large or small in the harbours.


On one of these operations another boat - or mine - rammed us cutting our bows nearly off. I was in the fore boiler room and got knocked in amongst the pumps hurting my back. Then she went over we thought we were gone. But she come back with a very bad list we could hardly stand up. We were awaiting orders to abandon ship. But orders came through. Water tight doors shut go slow ahead then slow astern try make way back to Portsmouth. The weather very calm we made it. Straight in dock we went and what a mess the bows was in, lucky we had no one killed but about thirty men were injured and had treatment. Now we got our first leave of the war May 5th 1940.

The ship was soon repaired. Day and night as fast as they could go. Off we go again to Dover looking for more trouble. The German was advancing and driving hundreds of refugees before them. We was running to and from Calais. The Germans seemed to know every time we arrived they would send bombers over. We would be out on the quay helping the British refugees in when they start bombing us. Women children would be screaming and crying. Sometime we would make them take cover under the railway trucks till Gerry had his fun. We were always glad to get away with our load.


We passed a large liner going down in the channel one morning and we all waved hands. About an hour after we had a signal, turnabout go to her assistance. She had been bombed and was afire and sinking. We was too late when we got there. All we seen was dead bodies floating around. We pick up one Officer alive but in a bad way. Rushed to Portsmouth where he died on arrival.


Now the German was advancing in quick time and we was having bombs dropped around us many times a day, We were surely getting tire out. Many of our boats had been sunk right near us so we didn't feel too happy and safe. Then came bad news our troops were being beating to the coast and was surrounded in Boulogne. About ten destroyers had to lay off the coast firing salvos inland at Gerry to keep them back. This enable our soldiers to get to the quayside. Then when it got dark two destroyers at a time went in and took as many off as possible. This went on until it came our turn. We being the last two destroyers. The Venomous and Veniticia? By this time our firing had stopped and Gerry had got closer. So when we went in up went the flares and we were being fired at. The Venomous got alongside the quay but the Veniticia got hit two or three times and caught fire. If she had sunk there we would have been captured, But her engines was good and she went astern getting out of the firing line.


Now the soldiers were jumping inboard as fast as they could. I was putting them in all the messes like sardines. The remainder had to lay flat on upper deck. Gerry was firing at us with his battery's. His tanks were entering the streets to fire at us. So our forward guns keeps them busy. Our aft guns engaged the batteries. Everyone was in a hustle bustle. The wounded we got on the galley table. I helped the doctor and steward with the aid of a torch to render first aid. Then we carried them forward to the mess tables to lay quiet. Shells were falling all around us. We had casualties but the ship wasn't damaged much. Then the word was passed, cast off "full astern". We were all quiet waiting and expecting to be hit a few times by Gerry. But luck was with us, we got clear and a cheer went up from the soldiers we had saved. But we left a lot there to be taken prisoners. We passed the Venticia still burning with two destroyers trying to put the fires out. They got her back to Dover with about 30 dead and wounded.

We were going to have another go at getting some more soldiers away but we had signal Boulogne as fallen to the Germans. Things started to look bad and it did get worst. By May 27th 1940 as you know Dunkirk was the next thing. All our armies were beaten and had to be saved. So every boat large or small was rushed over. Civilian fishermen all had in rushing all kinds of boats across. Many lost their lives but 335000 soldiers were saved from Gerry with all round help. I think we loss about 30,000 casualties, but our Army was saved with the help of God and calm sea.

I left HMS Venomous and join a new Air Craft Carrier HMS Victorious at Newcastle on 29 March 1941"





Stanley Bibbings was eventually discharged from the Navy in 1945 as a result of the injury to his back
He had served for 30 years in two World Wars and retired as a CPO Stoker

Venomous

was recommissioned three times after major refits requiring long periods in naval dockyards, the officers were given new appointments and the men returned to barracks for assignment to other ships. It was usual to retain a few experienced men to join the new commission but very rare for a man to remain with a ship throughout his service.

Venomous

was known to have problems with her engines and perhaps that explains why two of the long serving reservist stokers remained aboard throughout her wartime service. Stanley Bibbings left

Venomous

in June 1940 and became "Chief Stoker" on HMS

Victorius

but continued to suffer from the back problems caused by the collision with the paddle tug

Swarthy.




Find out more about the other stokers who served in HMS Venomous in wartime


Thomas "Yorkie" Russell joined Venomous in April 1945 as a 1st Class Stoker when my father, Lt(E) William Redvers Forster RNR was "Chief".