The story of HMS Venomous
From the Arctic to Alexandria 1942-3
As told by David Hoggins to his son Paul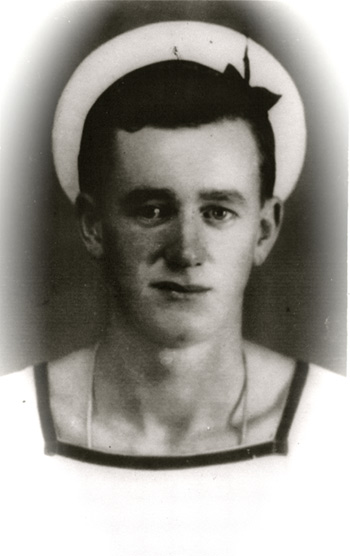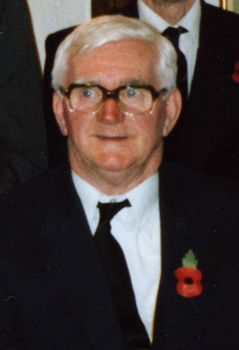 After the collision with HMS

Keppel

in November 1941

Venomous

was towed to Troon on the west coast of Scotland for repair and a major refit during which most of its officers and crew were replaced. Only Cdr Hugh Falcon-Steward RN, its CO, and a few of its senior POs and the RDF operator, Fred Thomas, remained from its first wartime commission. Its second commission which began in April 1942 would take it from Murmansk in Arctic Russia to Alexandria in Egypt and only ended, "its engine shot", at Falmouth in October 1943
.
David Hoggins was 19 years old when he joined HMS
Venomous
at Troon as a gun layer at the start of its second commission in April 1942. An exciting eighteen months lay ahead during which
Venomous
would rescue several hundred men from the destroyer depot ship, HMS
Hecla
, when it was torpedoed off the coast of North Africa on the 11 November 1942, Armistice Day.
David told the story of his wartime service on
Venomous
to his son Paul who accompanied him to the fifitieth anniversary reunion of the survivors of the
Hecla
at Stratford in 1992 (on right). Paul sent me the wartime photographs of his shipmates which accompany his father's memories of his time on
Venomous
on this web site.

David Hoggins was born at Aberdeen on the 12 December 1922 and worked in the fishing industry and timber yards until he joined the Navy in September 1941: "Volunteered on the Tuesday, medical on the Thursday, papers on the Saturday - I was on a train the following Tuesday. Just like that!"
He trained at HMS
Drake
in Devonport and remembered that virtually a whole crew was sent from there to join
Venomous
on the Clyde in April 1942. "We left from the barracks night-time on a special train. In our compartment there was two of us asleep on the luggage racks, two on the seats and two on top of the cases."
Dave, who was inevitably called Jock, was a Gun Layer Third Class and was assigned to One Mess, whose living quarters were "right for'ard". It was pretty unpleasant as he recalled it being "sweaty and clammy" and literally dripping with condensation. The facilities for personal hygiene obviously didn't help. "The washing facilities were bad - we just had basins. They were on the starboard side and were very exposed with an opening to the upper deck, so it could be cold getting a wash."
The food wasn't great either and Dave complained of constantly running out of bread - although he joked that it was the cause of his "war wound" when he sliced his finger cutting up bread. "We used to take turns at being 'cooks' as each Mess would be in charge of preparing their own food. It was the job of two of three of us to get everything ready and then take it down to the galley for cooking."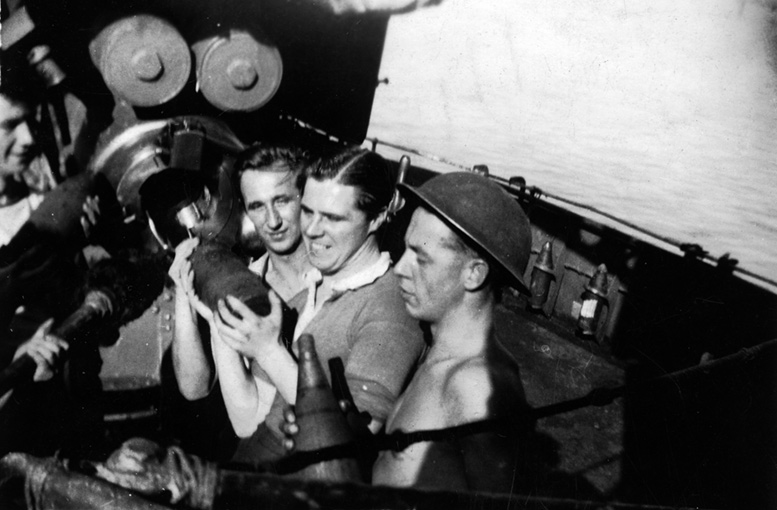 It wasn't all bad though - nearly fifty years later he still wished he had the hammock he used to sleep in and he retained a taste for Navy rum. "Rum rations was at dinnertime - that was popular. On board ship it was one and one - a tot of rum and a tot of water. But in barracks it was two and one - a tot of rum and two tots of water. Yuk! You got it in a 'fanny', a dish affair. The killick, or leading hand, would go and get it."
Mind you, it wasn't his favourite drink. "We used to have a drink of chocolate or kye, as they called it. Beautiful it was. It came in slabs and you had to scrape it and then spoon it in. I remember one night I was on watch and, as bosun's mate, I was asked to make a cup of chocolate. I went down to make it but the chief steward was up so he made it. Course, I go back, take it up to the officer of the watch and he takes a sip and says, 'This ain't your usual brew.' We used to make it nice and thick but the chief steward used to put sod all in it."
Venomous

had four 4.7 inch guns when built in 1919 but had lost two of them to make it better equipped for its role as a convoy escort in World War II. "Y Gun" had been replaced by rails for rolling depth charges off the stern and "A Gun" had been removed during the refit at Troon to make way for a new anti-submarine weapon, the Hedgehog, which hurled mortars ahead of the ship. David ended up on the ammunition party of "B" Gun at the bow and was also detailed to communications between the two pom-poms which together with the Oerlikons were the principal defence against attack from the air.
Convoy PQ.15 to Arctic Russia



He remembered the Russian convoy, PQ15, to Murmansk in Arctic Russia in May 1942 and the "story going round" about the threat from the

Tirpitz

. He described how three ships in the convoy were lost:


"One blew to pieces, I'll never forget that one; she just blew up. I just happened to be looking for'ard and bang, gone, vanished, nothing there. I didn't know at the time what the hell it was, whether it was an aircraft or submarine which hit her. The next one broke in two straight in the middle and went down in the middle of the convoy. The other one went down by the stern; she was struggling behind, sinking by the stern. All three ships sunk as quick as anything. The other ships picked up survivors. Then a plane flew over us as we took survivors off the small ships because we had a doctor. It was a Jerry plane, probably taking photographs, plain as anything; we could even see the pilot. We didn't see him 'til it was too late."
The loss of these three merchant ships around midnight on the 2-3 May 1942 is described in

A Hard fought Ship

. The three survivors from the

Cape Corso

which disintegrated in front of Dave's eyes were put up in the wardroom of

Venomous

. The SS

Jutland

also sank very quickly but the

Botovan

settled by the bows and had to be sunk by gunfire - but there were 137 survivors.
Venomous

dropping depth charges was something Dave never forgot:


"We dropped six - four thrown and two rolled off the back - and they went off at practically the same time. It was surprising how close they exploded. I wouldn't have liked to have been in the boilerhouse and hear that bloody lot go off. On deck it was bad enough, you could feel the thump hitting the ship."
The night HMS

Hecla

sank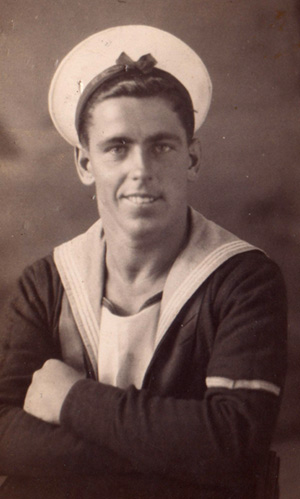 He would never forget the night of the 11 November 1942 when the destroyer depot ship, HMS

Hecla,

went down while being escorted by HMS

Venomous

and HMS

Marne

to the invasion beaches at Algiers. "I was off duty and got woken by someone saying 'a couple of torpedoes have just passed the bow' and I was runnning just as the bells went. If they'd hit us I wouldn't be here now because I was right for'ard."
He remembered a whaler from the

Marne

sinking after picking up survivors: "She came alongside and foundered because she had so many aboard. It had gone to pick up survivors but when the

Marne

got hit they thought she'd had it so they came to us."
Non of those aboard

Venomous

would ever forget the bravery of Warrant Officer "Jimmie" Button, the ASW Bosun, who dived in repeatedly to try and save the men trapped beneath the capsized whaler and died later from his exertions.

Harry Haddon, like Dave a Gun Layer on B Gun

,

recalled how

Fred Wharton

, a Scouse from Liverpool, was nearly left behind when he jumped in to help survivors and

Venomous

pulled away in pursuit of the U-boat after
receiving a ping on the ASDIC
. At the last minute he grabbed hold of a scrambling net at the stern and was pulled aboard by his hair. As Harry said, "he didn't have to do it." His PO was less appreciative, "I'll knock your block off if you do that again." Wharton was a big strong guy judging from his photograph taken a few months later at Alexandria (on right).


Venomous

spent the rest of the night "chasing echoes" and picking up survivors from

Hecla

, a job that continued the next morning:


"I was on the four-noon watch between eight and 12 and we were on battle stations. We had been told to keep our eyes open and I was up on B gun deck, standing on the starboard side, that was my cruising station, and I just happened to catch a glimpse of this bloke waving his arms. I looked up and the yeoman was on the wing of the bridge and I pointed to where I'd seen this bloke. The yeoman saw him and flashed his Aldis lamp and the bloke knew he'd been seen. He was sitting on two planks like a cross. He was from the

Hecla

and he'd been there all night. He was amidships when I spotted him. We nearly went past him and if I hadn't seen him I don't know whether he would have been picked up."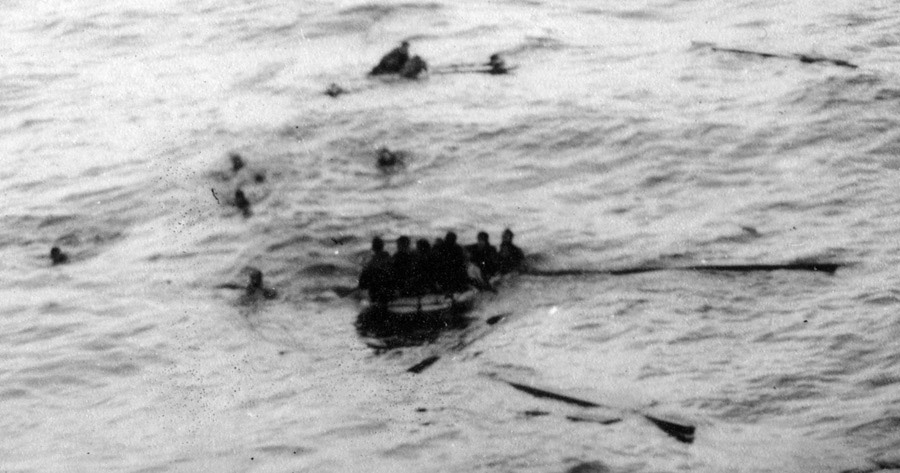 The loose timber washed from the deck of HMS

Hecla

which survivors clung to throughout the long night while awaiting rescue
This photograph was taken at dawn on the 12 November 1942 by Lt Leslie Eaton RNVR
Venomous

was "crammed" with survivors and the crew had to pick their way over them on deck.


The account of that long night is told in one of the longest and most exciting chapters in

A Hard Fought Ship.

The men who served on HMS

Hecla

, HMS

Marne

and HMS V

enomous

formed an association to keep alive their memories of that night. Fifty years later Paul accompanied his father to the anniversary dinner of the HMS

Hecla

, HMS

Marne

and HMS

Venomous

Association at Stratford in 1992.



Shipmates in Alex



Venomous spent the next few months escorting convoys, advancing eastwards as
ports in North Africa
were captured by allied forces. When the axis forces surrendered the route to Alexandria was re-oppened and

Venomous

escorted one of the first through convoys to Alex where David Hoggins and shipmates went ashore to celebrate - and have their photographs taken.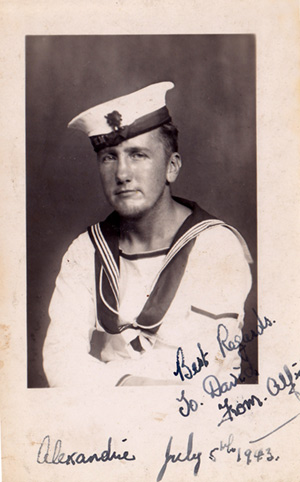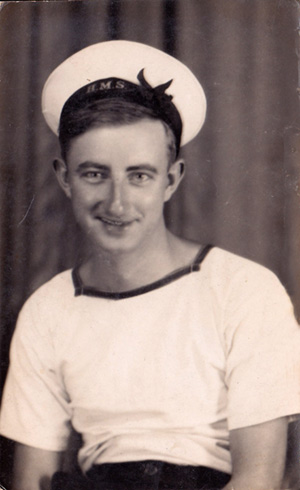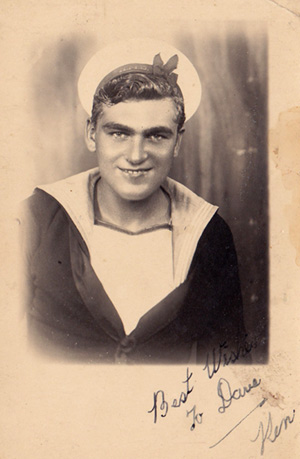 After Alexandria
Venomous
escorted the liners and merchant ships carrying the troops to the invasion of Sicily (Operation
Husky
) before returning to escorting convoys of merchant ships between the ports of North Africa. Her worn out engines forced her to return to Falmouth in October 1943 for repairs and a major refit. Most of the crew left leaving only a small care and maintenance crew aboard.
+++

Dave left
Venomous
when the ship went for a refit in October 1943. He was eventually assigned to HMS
Dornoch
, a Bangor Class minesweeper, as Captain of the Gun in April 1944. He remembers it as being fairly uneventful, although
Dornoch
was a part of the 16th Flotilla that swept the approaches for Omaha Beach at D-Day. He confessed that by the time the invasion started he was asleep in his hammock! "I don't think I realised the significance of it all at the time - it was only later in the day when I saw all the ships close in."
Dave wasn't able to join in the euphoria of VE-Day - he was in hospital in Devonport with appendicitis. He rejoined

Dornoch

in time for it to be paid off at Sheerness, where many of the minesweepers were mothballed. He saw out his time in the Navy as part of the care and maintenance party on board HMS

Abercrombie

, a monitor, in the River Medway. He left the Navy on April 21st, 1946.
It was at Sheerness that he met Patricia Fitzpatrick, who was at school for much of the war. She had moved to the dockyard town from Gosport after her father, Harry, who was in the Fleet Air Arm, was killed in the bombing of HMS

Illustrious in

January 1941. The couple married in August 1947 and had five children.





Dave spent much of his working life at the Pilkington glass factory in nearby Queenborough. He died in 1994

.
---
Holywell House Publishing
88 Holywell Hill, St Albans, Hertfordshire AL1 1DH, Britain
http://holywellhousepublishing.co.uk
Telephone: +44 1727 838595
contact online
---