The story of HMS Venomous
Sub Lt Miroslav Stanley Lansky RNVR
Psrt 1: From Schoolboy to the Battle of the North Cape, Christmas 1943, and the sinking of
the

Scharnhorst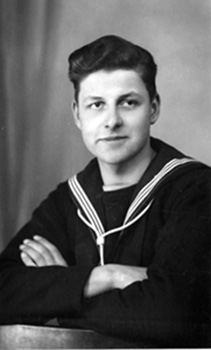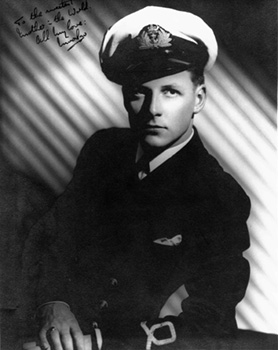 Miroslav Stanley Lansky was born in Marylebone, central London, on the 19 June 1925 but his parents, Joseph and Olga Lansky (ne้ Zajieck), were born in the Austro Hungarian Empire, came to England on Czech passports and were registered as aliens. They married at London in 1920 and Miroslav, their only child, was named after Stanley Baldwin, the Prime Minister. Joseph Lansky was born at Kladno sixteen miles north west of Prague in 1893 but Olga Zajieck, a strong willed determined woman, was five years older, born at Negotino in present day Macedonia in 1888 and her father was reputed to have been a doctor to the Serbian Royal Family who was paid in gold for his services. Joseph was 21 at the outbreak of the Great War and was bound to have been conscripted. Miroslav somewhat evasively admitted that his father "waved a gun about a bit".

His parents were successful and prosperous but as foreigners found it difficult to be accepted into the British society. This was not a typical background for an officer in the Royal Navy but Miroslav received a conventional upbringing and despite his name appeared very British - apart from his ability to master foreign languages. He grew up speaking Czech at home but his father taught him German, the "lingua franca" of the Austro Hungarian Empire, which he thought might come in useful.
Joseph was a graduate of the University of Berlin who held senior positions in hotel management at the Ritz in Paris and London and Olga, a shrewd business woman, who owned several rental properties in London. When Miroslav was about seven they bought land at Brede near Rye (now the Greenacres animal sanctuary) in Stubbs Lane where Joseph hand built a small house, planted roses and kept a couple of cows and sheep and some poultry. They called the property Mirlan Park (after Miroslav Lansky). Although the farm was hard work and not a money making success, Miroslav loved the country life.

Joseph and Olga continued their respective occupations in London and throughout the Depression could afford to go on long expensive holidays abroad. In 1932 they took their seven year old son on a cruise to Gibraltar aboard the Suwa Maru (Joseph was described as an "estate owner" on the passenger list) and from there to Morocco where they visited all the main towns and two years later Olga and Joseph took Miroslav to Trinidad, Mexico and Peru.

Miroslav attended Rye Grammar School founded in 1636 and won prizes in History and French. In July 1940 when he was fifteen the pupils of Rye Grammar School were evacuated to Bedford where he lived with a host family, not a happy experience for a single child of well-to-do parents. He joined the School Training Section of Air Training Corps (ATC) Squadron 691 made up of pupils from Rye Grammar School and Owens School in Islington, both of which had been evacuated to Bedford.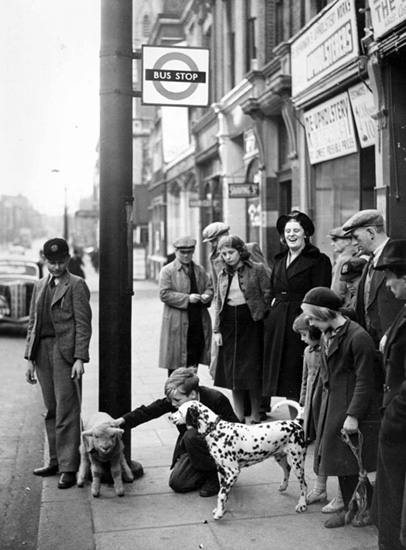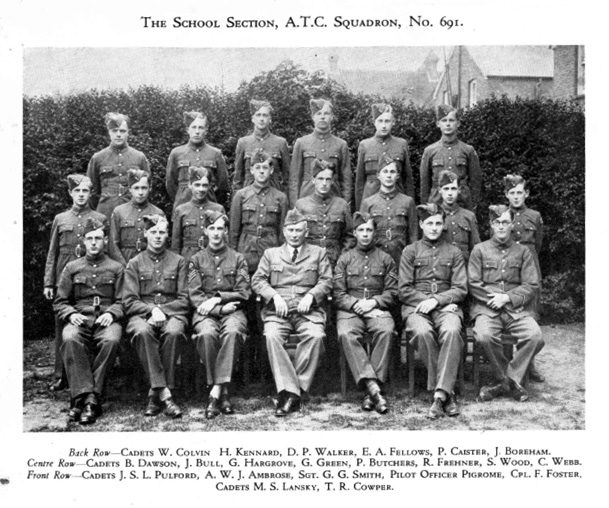 Miroslav at Rye Grammar School
With pet lamb waiting for the bus in Rye (left) and with the cadets of the Air Training Corp in Bedford (right)
Courtesy of Tamara Lansky
In 1942 aged seventeen he volunteered to join the Royal Air Force but after his first - and only flight - realised his stomach was not cut out for flying and joined the Royal Navy because "I liked the uniform". His "Certificate of Service" records him as enlisting on the 10 February 1943 "for the period of the present emergency" and being assigned JX.549099 as his Official No. with Chatham as his "Port Division" (customary for boys from London) but since he was not yet eighteen he was "Discharged to Reserve" the same day. He took up the offer of a place at Oxford and was a member of Balliol College for Trinity Term, the last term of the academic year, commencing in April and ending in June, and studied for a BA in Philosophy, Politics and Economics (PPE). His tutor was B.H. Sumner (1893-1951), the foremost Russian historian of his time and later Warden of All Souls.

He left Oxford at the end of Trinity term when he was eighteen and spent summer at home before beginning his basic training with the Royal Navy in October. HMS Ganges, the Royal Navy's boys training centre at Shotley on the River Stour opposite Harwich, had become the centre for "Hostilities Only New Entry Training" and Miroslav was there from the 6 October to the 19 November 1943. The photograph of the officers and new entrants who trained with him was taken in front of the figurehead and mast which each new entrant had to climb. Miroslav went to the trouble of getting all sixty to sign their names on the reverse. He also had his portrait taken in the dress of an Ordinary Seaman (top left) before joining his first ship, HMS Norfolk at Scapa Flow on the 20 November in time for the Battle of the North Cape where the the German battlecruiser Scharnhorst was sunk.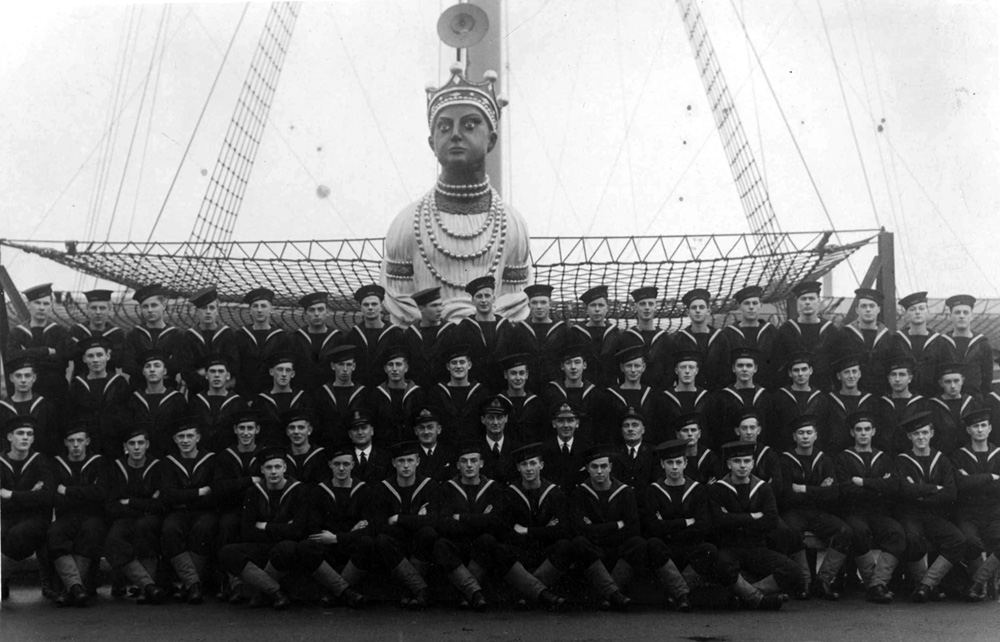 Miroslav Stanley Lansky and the new entrants to HMS
Ganges
in October 1943 pose with the staff in front of the figurehead and mast
Courtesy of Tamara Lansky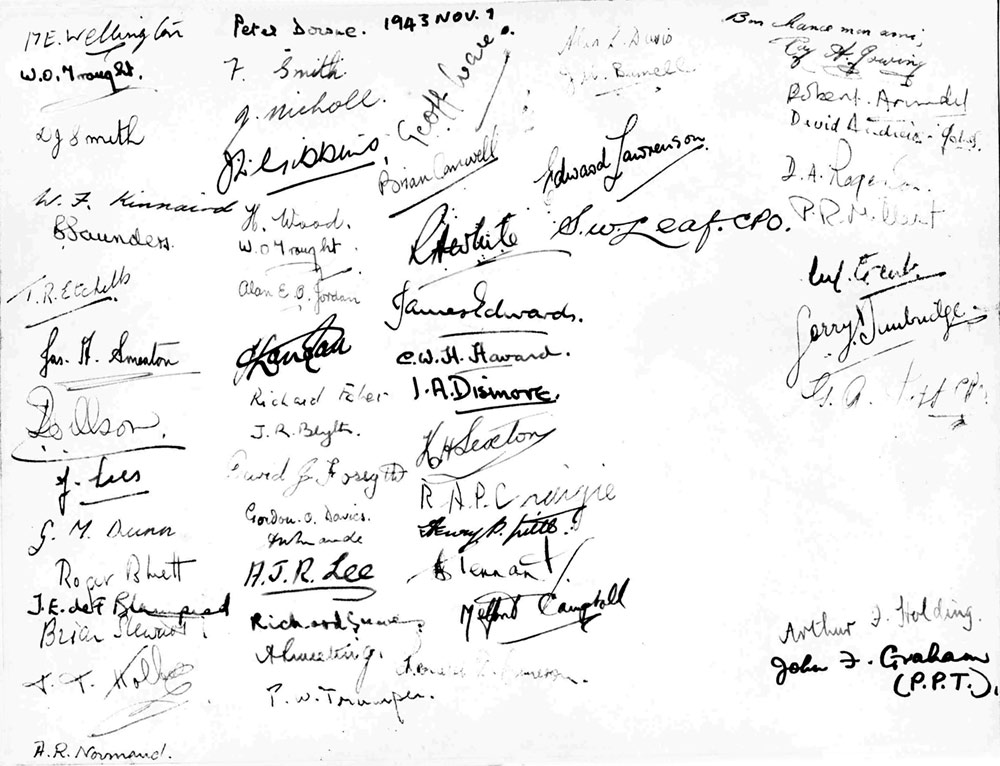 The names of the new entrants and the staff who trained them at HMS

Ganges

in October - November 1943


Courtesy of Tamara Lansky



HMS
Norfolk
on the Eastern Station in 1938
Photographed by my father, William Redvers Forster (1900-75) while Chief Engineer on the oiler RFA
Aldersdale
Lt(E) William R Forster RNR served with Sub Lt M.S. Lansky RNVR on HMS
Venomous
in 1945
On the 20 November 1943 Ordinary Seaman (OD) Miroslav Stanley Lansky (top left) joined the heavy cruiser HMS Norfolk at Scapa Flow. On the 20 December Norfolk was part of the escort for Russian Convoy JW55B to Archangel. On the 26 December HMS Norfolk engaged the German battlecruiser Scharnhorst detected on RDF (radar) by HMS Sheffield and enemy fire damaged X gun turret and killed six men but Norfolk put the Scharnhorst's radar out of action. Terry Hulbert on a gun platform high up in the superstructure describes the action on the BBC Peoples War web site. The Scharnhorst was crippled by the heavy guns of the battleship, HMS Duke of York, and the light cruisers, HMS Sheffield and HMS Belfast. and sunk by repeated torpedo attacks and Lansky remembered steaming through seas covered with men, some calling out pitifully for their mothers. Scrambling nets were hung over the ship's side but they were not allowed to stop and only 36 of the 1,968 aboard were saved, mostly by HMS Scorpion (see also The Kola Run: a record of Arctic Convoys by Ian Campbell and Donald Macintyre, CO on HMS Venomous for a few months in 1939). Her sinking was not observed and there was doubt as to her exact position until the wreck of the Scharnhorst was discovered in September 2000.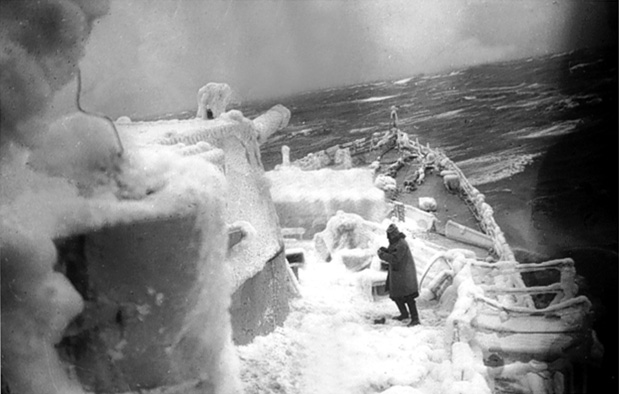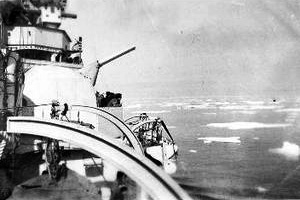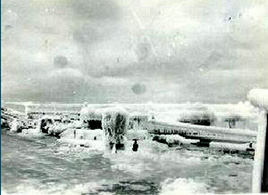 HMS Norfolk in the Arctic in December 1943
Photographed by Terry Hulbert

After this heady introduction to the war at sea Miroslav left HMS Norfolk on the 7 January 1944 for officer training at HMS King Alfred (H), a former leisure centre at Hove near Brighton, requisitioned by the Navy for training officers for the RNVR. Cadet Ratings did their initial training at Mowden School in Hove, King Alfred (M), moved on to more advanced training at the former Lancing College, King Alfred (L), and completed their training at King Alfred (H). They were organised into Divisions and Miroslav was a member of Rodney Division. He completed his officer training on the 6 April 1944, was promoted to Midshipman, the most junior officer in the Royal Navy, and posted to HMS Cassandra. The inscription on the photograph of him in officer's uniform (top right) is inscribed "To the sweetest Mother in the world. All my love, Miroslav".

Acknowledgments

Miroslav Stanley Lansky was the last officer alive who served on HMS Cassandra when it was torpedoed on the 11 December 1944 and on HMS Venomous when it accepted the surrender of German naval forces at Kristiansand in Norway on the 15 May 1945. He was in poor health when I contacted the family and I relied on his wife, Evelyn Lansky, and daughter Tamara, to help me tell his story.

The torpedoing of HMS Cassandra and events after it was towed into Murmansk is based on the detailed description by Dudley Mills which can be viewed and read on this site and the accounts of survivors edited by Peter Erwood for the 6th Destroyer Flotilla Association and published by Arcturus Press in 1996 as A Long Night for the Canteen Boat: The torpedoing and salvage of HMS Cassandra December 11 1944 which is no longer in print. HMS Cassandra was a sister ship of HMS HMS Cavalier, the last surviving wartime destroyer of the Royal Navy, which is preserved in Chatham's historic naval dockyard. The 'C' Class Destroyers by David Hobbs was published by Maritime Books in 2012 and reviewed by John Rodgaard, co-author of A Hard Fought Ship: the story of HMS Venomous, in this November's issue of the Mariner's Mirror.

It did not seem appropriate to give a detailed description of events at Kristiansand since this can be read in A Hard Fought Ship: the story of HMS Venomous which is still in print but details received since publication including Miroslav's own memories are given here and it is hoped that this will lead to further contacts with crew members of HMS Venomous.Lt Cdr Arthur Guyon Prideaux's unpublished memoir of his wartime service in the Royal Navy can be seen in the Library of the Royal Navy Museum in Portsmouth (Ref 1997.55). There are no surviving members of the V & W Class of destroyers and the best known history of the V & Ws is long out of print.

I would also like to acknowledge the invaluable assistance of Cliff Longfoot, the Secretary of the HMS Cassandra Association, whose members meet annually at the D Day Museum in Southsea on the 11 December to lay a wreath on the memorial to the 62 crew members who were killed on that day in 1944.


---
Holywell House Publishing
88 Holywell Hill, St Albans, Hertfordshire AL1 1DH, Britain
http://holywellhousepublishing.co.uk
Telephone: +44 1727 838595
contact online
---