The story of HMS Venomous
Lt Cdr A. Derek A. Lawson RNVR
Part I: Atlantic and Arctic Escort on HMS

Beverley

and HMS

MIddleton



October 1940 - April 1944
Arnold Derek Arthur Lawson was born on the 4 October 1907, the son and grandson of opthalmic surgeons. His grandfather, George Lawson, was Surgeon Oculist to Queen Victoria and his maternal grandfather, Sir Andrew Clarke, general surgeon to Prince Albert. His father, Sir Arnold Lawson (1867-1947), was an opthalmic surgeon at various London Hospitals and the family lived at 12 Harley Street where Derek (he was always known as Derek) grew up with his brother and sister. He seemed destined to enter the medical profession but told his daughters he was terrified of the sight of blood. He went to Eton and from there to Trinity College, Cambridge, where he studied law. He had wanted to join the Navy but his father told him "the Navy was no profession for a gentleman". Despite this, when Sir Arnold was appointed Opthalmic Consultant to the Navy in 1940, he refused to take any fee for his services, saying that it was his contribution to the branch of the Forces in which his son served.

Derek Lawson was twenty-nine and single when he joined the Royal Naval Volunteer Supplementary Reserve [attached to London Division RNVR] on the 8 March 1937. Arthur Guyon Prideaux, his successor as CO of HMS Venomous, also a lawyer in civil life followed exactly the same route to becoming an officer in the RNVR. He must have completed his officer training before the outbreak of was since he was graded temporary (hostilities only) lieutenant in the RNVR on the 23 November 1939 and by the 23 September 1940 was stationed at HMS Seaborn, the Royal Navy shore base (a stone frigate) at Halifax, Nova Scotia, prior to joining HMS Beverley, an elderly "four stacker" destroyer transferred from the USN to the RN under the lend-lease programme.

Derek Lawson was a keen photographer and his fine photographs taken with a Leica illustrate this account of his service in the Royal Navy.
Although it is easy to trace the movement of his ships and most of the photographs have captions they are undated making it difficult to identify when they were taken.
As a result it has only been possible to give an approximate time scale and I would welcome help in adding further details to the story told in pictures below.

**** **** **** **** **** ****
Lt A.D.A. Lawson RNVR joined HMS

Beverley

in October 1940 soon after his arrival at Halifax.
Eric Coleman, a rating on HMS

Beverley

, was not impressed: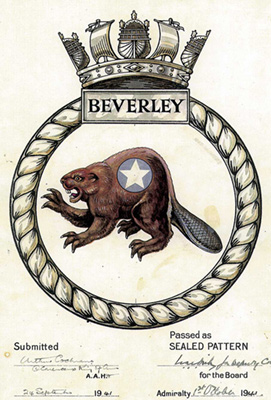 "There were four Destroyers tied up, in two pairs alongside, in Halifax Dockyard. They had four funnels, a very tall mast and very narrow beam. Not the best combination to face the rigours of the Atlantic weather. The mess was in the bows, with bunks for sleeping and not hammocks. In fact everything for maximum discomfort at sea. The equipment was all American and we spent a week getting familiar with its operation and location. The mess coffee pot was never switched off.
We had lots of assistance from a small crew of US sailors and the second week was spent at sea, making sure all was well. We then sailed for the UK with the other three boats, via St Johns, Newfoundland. Three made it, one returning to Halifax with engine trouble. My guess about the sea-going qualities soon proved correct, as during the trip to St. Johns we seemed to do everything except turn over. We eventually arrived in Belfast, where quick repairs were carried out and various pieces of RN equipment fitted. These included a very early Radar set with the aerial on top of the mast, which was rotated by a hand-wheel in the office, through a 'bowden' cable.
"
After crossing the Atlantic HMS

Beverley

spent two months in the naval dockyard at Devonport, Plymouth, being refitted as an escort destroyer before she commenced her duties as a local escort in the North Western Approaches i
n January 1941
but engine problems led to a further refit for this elderly destroyer on Tyneside between March and April.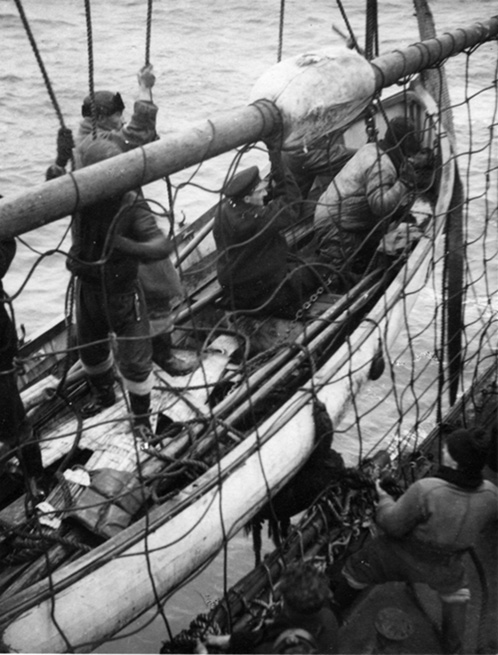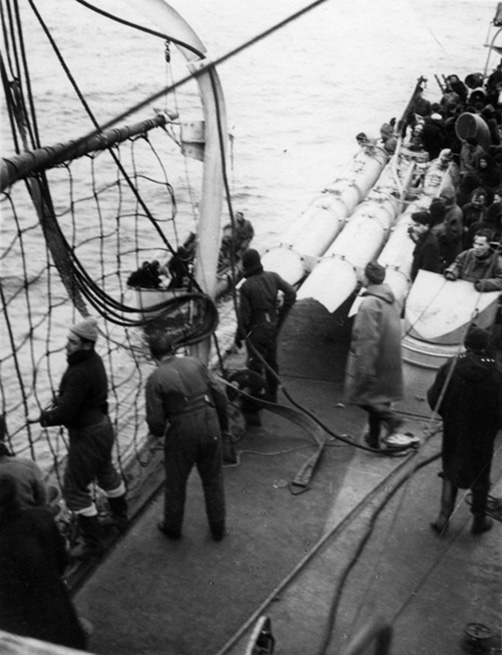 The scrambling net is out and the whaler is being lowered - to rescue survivors?
Courtesy of Caroline Turner (née Lawson)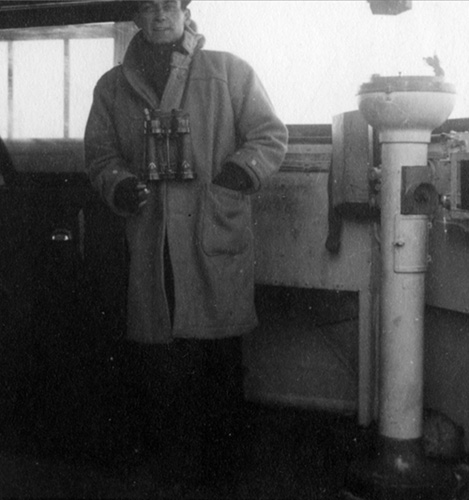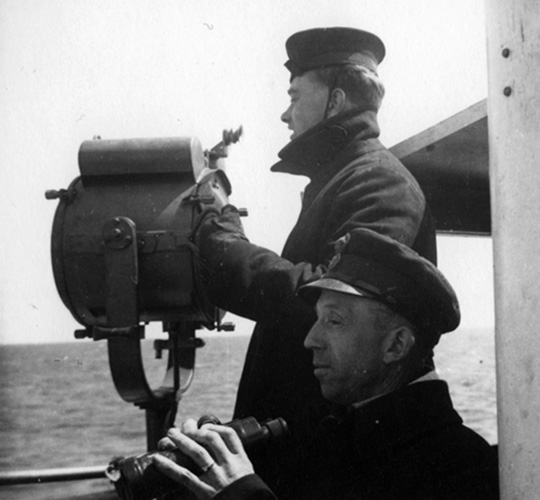 Derek Lawson wearing duffel coat on bridge of HMS

Beverley

(left) and signalman with officer

Courtesy of Caroline Turner (née Lawson)




In June 1941 she was sent to Havelfjord, the large natural harbour on the south coast of Iceland, where destroyer escorts refueled or were repaired while lying alongside the destroyer depot ship, HMS

Hecla.

It was probably during this period that the following incident occurred.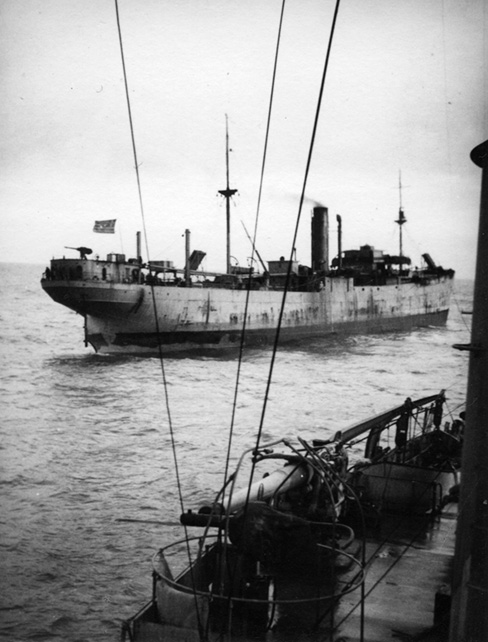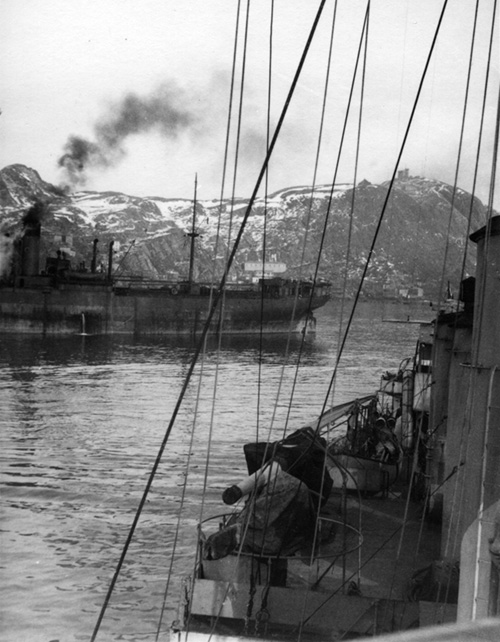 A drifting steamer with DEMS Gun on stern and foreign flag is brought to safety at Havelfjord, Iceland

Courtesy of Caroline Turner (née Lawson)
In September 1941 HMS

Beverley

joined the 8th Escort Group at Londonderry, Northern Ireland, escorting convoys on the West African route. The photograph taken on the River Foyle shows her four funnels, mounted two by two, which identify her as an American "four stacker" transferred to the Royal Navy under the "Lend Lease Agreement". The skyline of Londonderry with the Guildhall on the far right and the city quays in front is easily recognisable.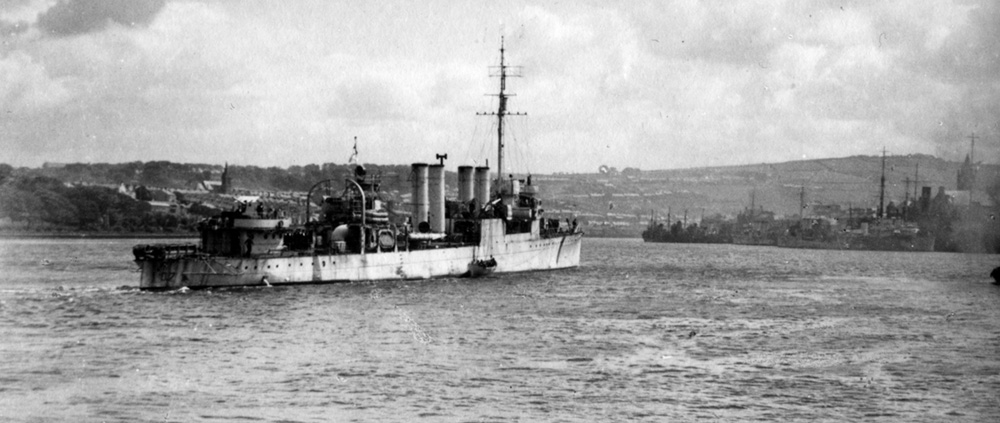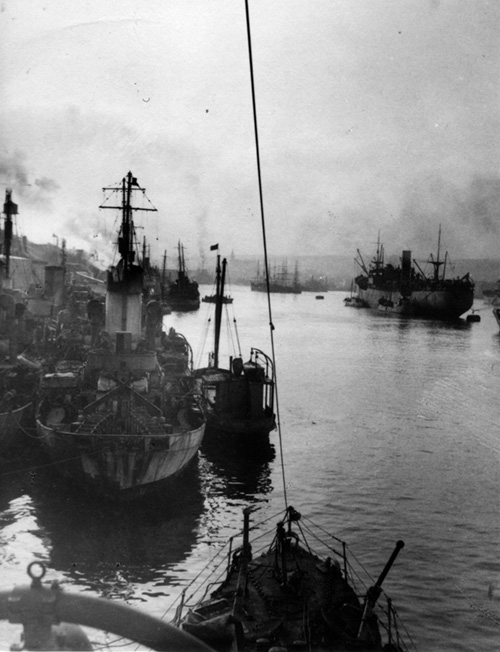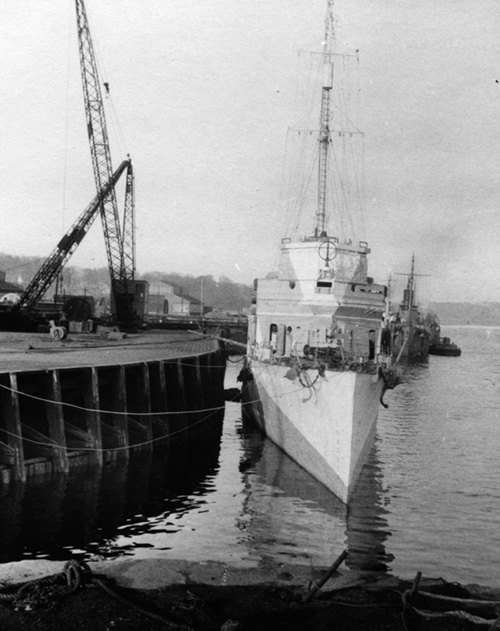 The crowded harbour scene at Londonderry with HMS

Beverley

in Arctic camouflage berthed alongside on right

Courtesy of Caroline Turner (née Lawson)
On the 12 April 1942 HMS

Beverley

left Iceland as part of a strong escort for Convoy PQ.14 to Murmansk in Arctic Russia where they arrived on the 19 April. They returned escorting the same ships in Convoy OP.11 and were joined on the 30 April by the cruiser, HMS

Edinburg

h, with five million ponds of gold bullion taken aboard in Murmansk to pay the USA for war aid.

Edinburgh

was ahead of the convoy when hit by two torpedoes fired by U-456. She attempted to return to Murmansk but on the 1 May was subjected to six further attacks by aircraft and German destroyers.
HMS

Beverley

,

Bulldog

and

Beagle
fought of these attacks (see press cutting). Further attacks followed the next day and

Edinburgh

had to be abandoned after being hit by a torpedo from the destroyer Z25. HMS

Beverley

and

Amazon

took the injured crew members to Iceland.

Derek Lawson was Mentioned in Despatches (MID) for his behaviour during this action and the CO, Lt Cdr John Grant RN, was awarded the DSO. The COs of HMS

Bulldog, Beagle

and

Amazon

also received the DSO. There are no photographs recording the action during this the most dramatic period of Derek Lawson's service aboard HMS
Beverley
apart from the photograph of HMS

Amazon

taking the injured to Iceland through floating ice (below) but his album contains several press cuttings and a naval message from HMS

Bulldog.
Naval message sent by HMS Bulldog on the 1 May 1942 to the CinC H Force, Whitehall
Courtesy of Caroline Turner (née Lawson)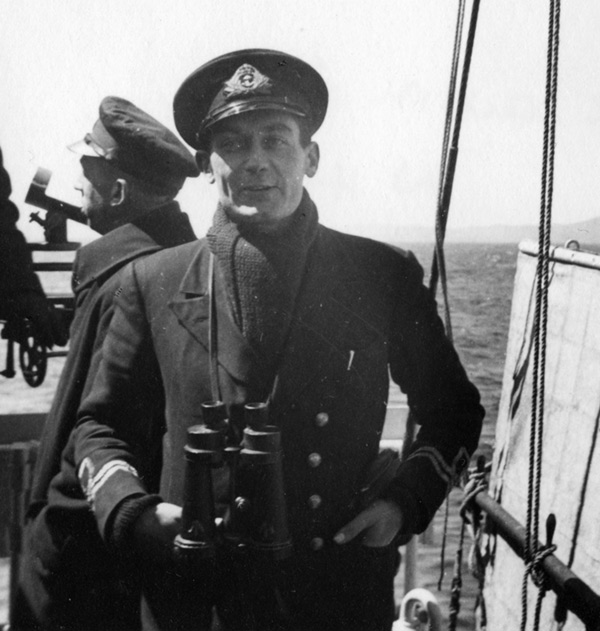 Lt Derek Lawson RNVR aboard HMS

Beverley

(left) and a press cutting reporting on the part played by HMS

Beverley, Bulldog , Beagle

and

Amazon

on May Day

Courtesy of Caroline Turner (née Lawson)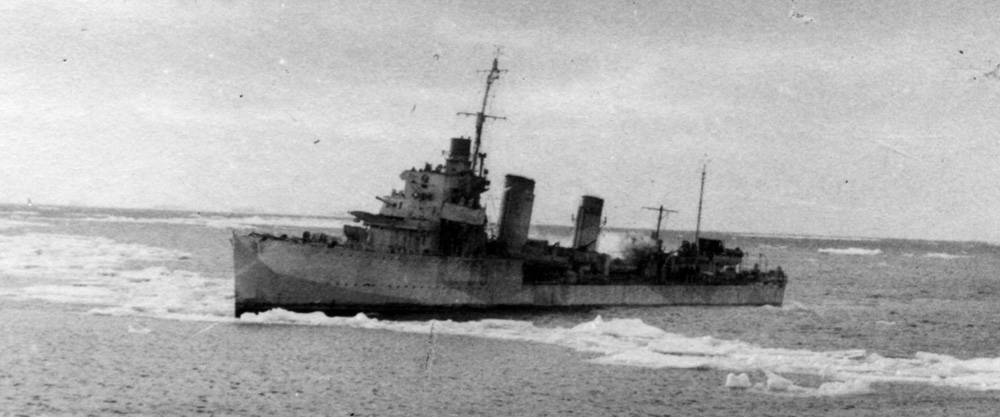 The Pennant Number H39 identifies this warship amidst drifting ice as HMS

Amazon



Courtesy of Caroline Turner (née Lawson)
Derek Lawson left HMS

Beverley

while under repair at Belfast in June 1942 but did not join HMS

Middlleton

until October and a year later on the 11 November 1943 HMS

Beverley

was torpedoed by U-188 and there were only four survivors out of the ship's company of 155.


Derek Lawson joined HMS
Middleton
(L74), a new Type II Hunt Class destroyer commissioned in January, on the 3 November 1942 and was made
First Lieutenant, "No 1" (or "Jimmy the One") on the 13 January 1943
.



The Hunt Class were designed as convoy escorts with lighter armament and a lower speed than destroyers for Fleet work. They were short range escorts, mainly used with East Coast Convoys and in the Mediterranean. They were ordered in 1939 and 86 were eventually built and named after British fox hunts. The Type II Hunt Class corrected a design fault in the Type I by increasing the beam width to increase stability. Their main armament were three twin mounted
dual purpose (DP) quick firing (QF)
4 inch guns which
could
be elevated to provide ant-aircraft fire, one at the bow in 'A' position and two at the stern, 'X' and 'Y' Guns. There were no torpedoes on the Type II Hunts. HMS

Middleton

was built by Vickers Armstrong on the Tyne and named after a Yorkshire fox-hunt.

Lt. Charles Shelly Battersby, RN (on right) was appointed CO on the 29 September 1942 on her return to Scapa with Convoy QP.14 from Archangel. HMS

Middleton

was his first command and
Derek Lawson was the CO's right hand man, responsible for everything which went on aboard ship.
Is this why he photographed his fellow officers and the men on

Middleto

n and mounted their photographs in a cloth bound album with hand written captions for each page and, sometimes, for each photograph? He had not recorded his time on HMS

Beverley

so thoroughly but he was only one of several lieutenants on

Beverley

, not "No 1" responsible for seeing that everything on the ship was done according to the wishes of his CO.



Officers on HMS

Middleton
"Doc" Balfour took the photograph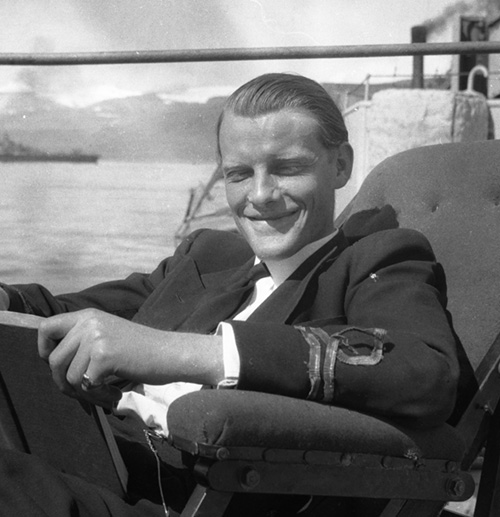 For details of their service careers click on the links below
:
Surg Lt Harry M. Balfour RNVR had been blown up on his two previous destroyers,

Windsor

and

Holderness

, and joined HMS

MIddleton

on the 14 January 1943, the day after Derek Lawson was promoted to "Number One". He summed up the First Lieutenant in the following words:
"A qualified barrister, he possessed a brilliant mind and a perceptive sense of humour. He coupled his intelligence with the sort of courage and stamina that comes from total belief in one's own self and ability.

He had slightly curled dark hair which, by some special dispensation from Divine Providence, remained unruffled after days and nights of Arctic weather, piercing blue eyes, an aquiline nose; and the habit of holding his head backwards and to one side with an expression that conveyed, in the kindest and most understanding way, his firm belief that you too were human.
I always pictured him in an elegant Mayfair 'salon', dispensing both wit and wisdom and holding a glass of champagne about which, after one sip, he knew more than his host. In a previous era he would have leaned, quietly relaxed, in the corner of his tumbril, watching the crowds with that same tilted head and friendly smile."
News quickly spread around the ship that a member of the legal profession had joined, and that the messdeck 'sea lawyers' should beware.
Four CW Candidates joined them at Scapa the next day, among them eighteen year old Mike Alston, the 'biographer' of HMS
Middleton
(see below).
Derek Lawson with "A" Gun's Crew
Courtesy of Caroline Turner (née Lawson)
"A" Gun is the most distinctive feature on many of the photographs of HMS
Middleton
and naturally seemed the most popular place to have ones photograph taken. Lt Cdr Battersby posed with his wife (cropped out from the picture above) beneath the twin barrels of "A" Gun to have their photographs taken by his "No 1". Lawson took a group photograph of his "Captain" and fellow officers from other end and then handed the camera to "Doc", Lt Surgeon Browning RNVR, and joined the group for the photograph shown here. He looks less at ease posing with the Crew of "A" Gun with the Gun Captain on his right.
It is very difficult to relate the photographs in his album to specific events even though the location where they were taken is usually given. During his fifteen months as First Lieutenant HMS

Middleton

was mainly used as an escort for Atlantic and Arctic convoys and his album includes photographs taken in Iceland at Havelfjord, near the cross-over point of escorts for the convoys to Canada, and at Seidesfjord, the assembly point for convoys to Murmansk in Arctic Russia, but she also spent time at Scapa Flow and in the Shetland Islands.
Middleton

was a short range escort and since it was usually too rough to refuel at sea in the Arctic she would accompany convoys to Russia from the assembly point in Loch Ewe to just beyond the Arctic Circle and then escort the returning convoys home.
The 1st Sea Lord, Albert Victor Alexander (1885-1965), later the First Earl Alexander of Hillsborough, a Labour Politician who was three times First Lord of the Admiralty and then Minister of Defence under Clement Attlee, went on an Arctic Convoy in 1942 to see for himself what conditions were like but the photograph of him below was taken in January 1943 during a visit to the Home Fleet at Scapa Flow. HMS

Middleton

was part of the 17th Destroyer Flotilla based at Scapa Flow and Mike Alston, an eighteen year old CW Candidate doing his ten weeks sea training as an Ordinary Seaman (OD) on

Middleton,

remembers Alexander coming aboard. The photograph of the senior officers with Lt Battersby was probably taken at about the same time, if not on HMS

Middleton

then on HMS

Belfast

.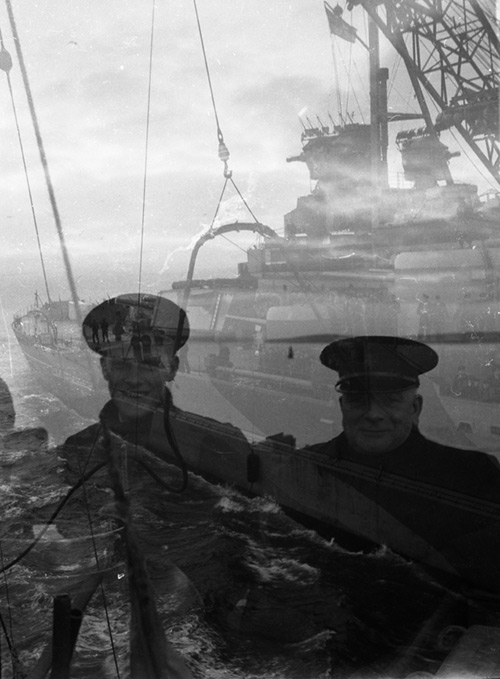 Left:
"A.V. Alexander, 1st Lord of the Admiralty and Naval Secretary", a curious double exposure with the battleship HMS
King George V
behind

Right:
"Capt Parham of HMS
Belfast
, Captain (Battersby), Rear Admiral Bob Burnett 'C.S. 10', 'Pinto' Foster
Courtesy of Caroline Turner (née Lawson)
Refueling from the battleship HMS King George V
Courtesy of Caroline Turner (née Lawson)
Wintery conditions at Seidesfjord and the motor cutter smashed by a gale
Convoys assembled at Seidesfjord on the north coast of Iceland before heading North East with their escorts to Murmansk in Arctic Russia
Courtesy of Caroline Turner (née Lawson)
Murmansk Convoy after leaving Seidesfjord (top)
Courtesy of Caroline Turner (née Lawson)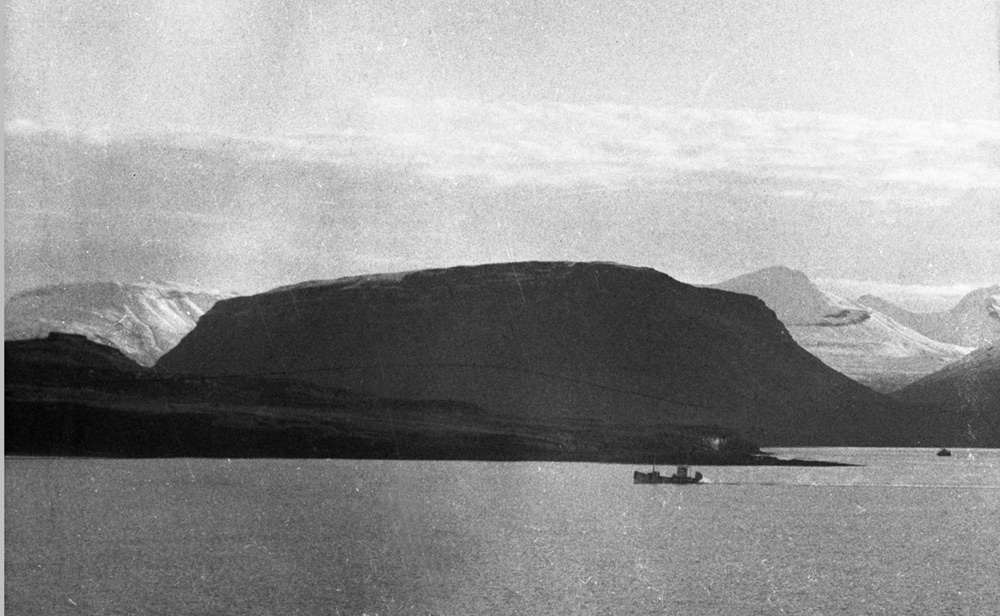 A peaceful scene at Havelfjord, Iceland
Courtesy of Caroline Turner (née Lawson)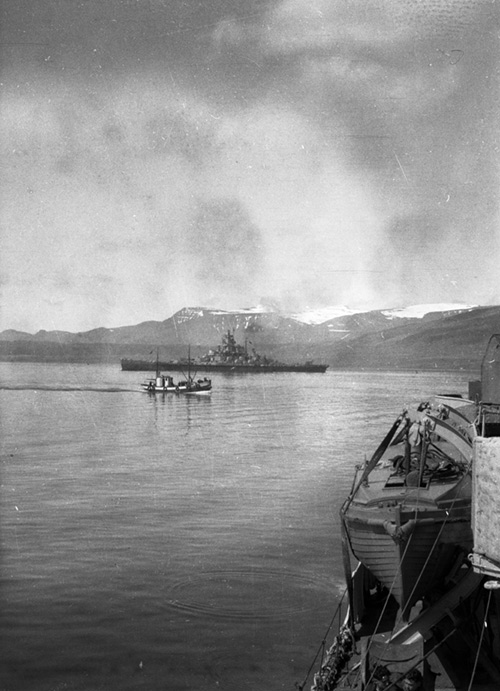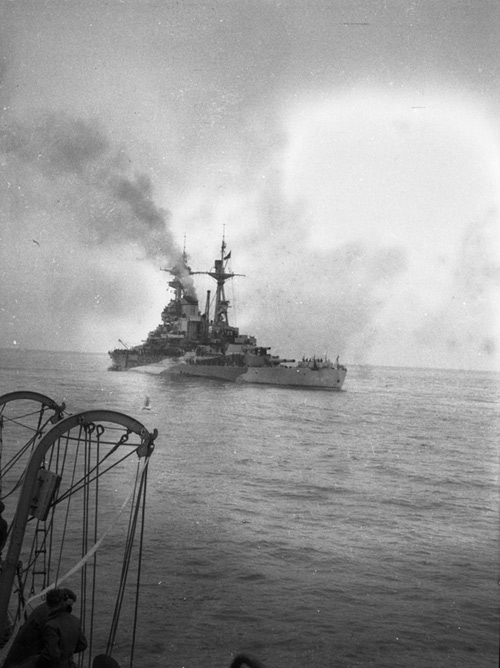 Left:
USS

South Dakota

at Havelfjord, Iceland

Right:
The Revenge Class Battleship, HMS

Royal Sovereign
Courtesy of Caroline Turner (née Lawson)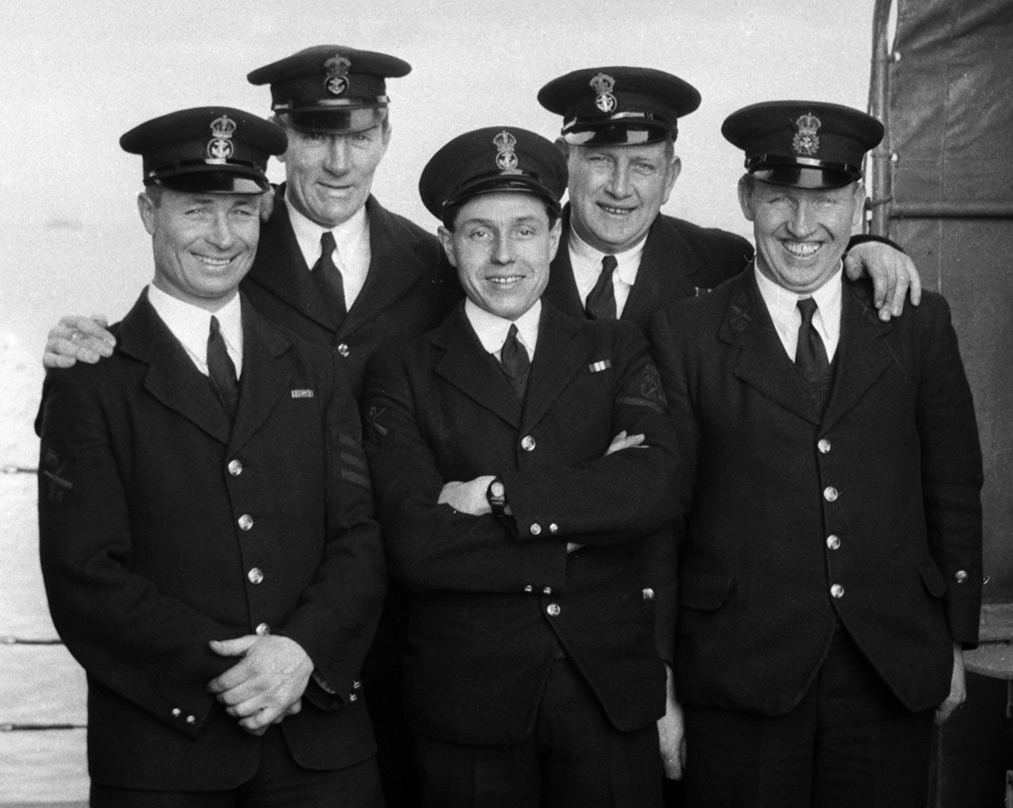 Petty Officers - the backbone of the Royal Navy - some with ribbon for service in the Great War

From left to right: Martin, Rea, McBurney, Crockford, Almond
Courtesy of Caroline Turner (née Lawson)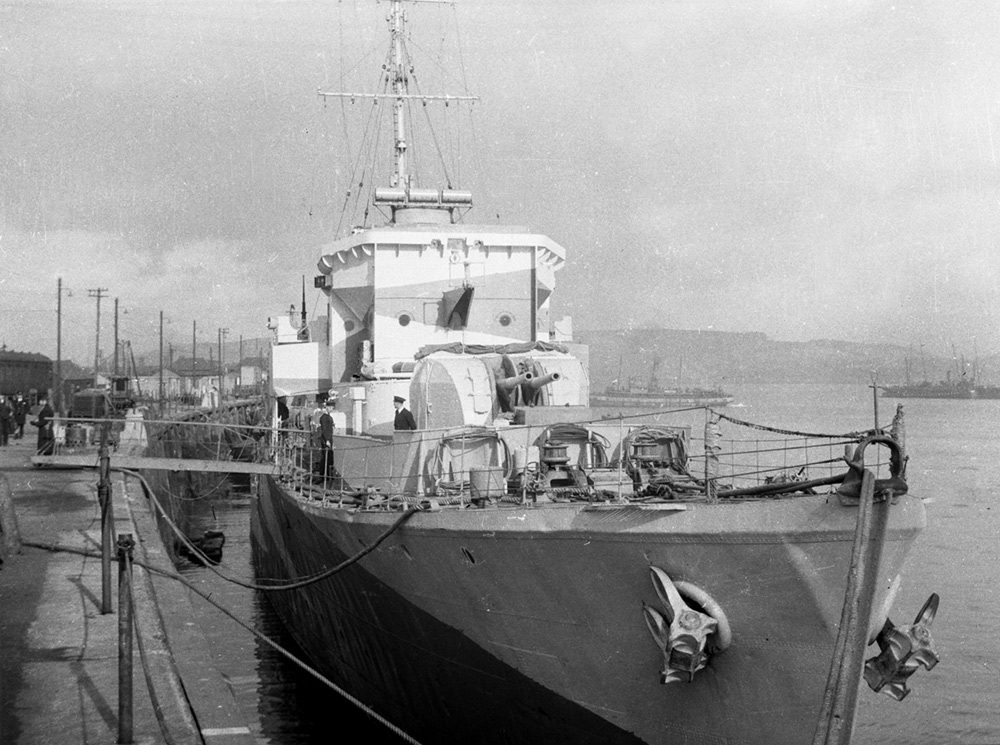 HMS

Middleton

at Shetland
Courtesy of Caroline Turner (née Lawson)
Lt C.S. Battersby RN left HMS

Middleton

on the 2 January 1944 and was replaced as CO by Lt. Ian Nagle Douglas Cox, DSC, RN. Derek Lawson was promoted to Lt Cdr in February 1944 and left HMS

Middleton

in April during a refit at Bristol to await a new posting. After fifteen months on HMS

MIddleton

, mostly as "No 1" he could now expect to be given command of his own ship. On the 12 April he married Flora Breckinridge Fermor-Hesketh in Marylebone, London. He was appointed CO of HMS

Venomous

an elderly V & W Class destroyer which had been in the hands of Silley Cox, the commercial dockyard in Falmouth, since the previous October. His future "No 1", Lt Frank Greenaway RNVR, was officer in command during the refit.

Venomous

had been taken out of the dockyard in March and put on a mud berth to make way for more urgent work related to the imminent D-Day landings in Normandy. There was no urgency about taking up his first command.
Acknowledgments

Mike Alston joined HMS

Middleton

as an eighteen year old in 1943 and fifty years later wrote

Destroyer and preserver The story of HMS

Middleton

and her ship's company - 1941-1946

(Maphigrada, 1993) drawing on the memories of his eighty fellow members of the HMS

Middleton

Association. In 2013, seventy years after he joined

Middleton

, he was presented with the Arctic Star by the Prime Minister, David Cameron, at 10 Downing Street.


The most detailed time lines recording events in the lives of HMS

Beverley

and HMS

Middleton

are on Naval History.Net http://www.naval-history.net
And the service careers of the officers who served on these ships can be viewed on unithistories.com http://www.unithistories.com
All the photographs are courtesy of Caroline Turner, daughter of Lt Cdr A.D.A. Lawson RNVR
---
Holywell House Publishing
88 Holywell Hill, St Albans, Hertfordshire AL1 1DH, Britain
http://holywellhousepublishing.co.uk
Telephone: +44 1727 838595
contact online
---