The story of HMS Venomous
Part 1: Cruises and Regattas in the Mediterranean
HMS

Venomous

and her sister V & Ws in Peacetime

Almost all we knew about HMS
Venomous
during the six years it spent in the Mediterranean after its Baltic adventure and before being put in Reserve is taken from the ship's logs in the National Archives at Kew.
There are very few photographs and only the briefest of mentions in diaries but I have now been contacted by the son of Colin George Walter Donald RN (1904-40) who joined
Venomous
as a young sub lieutenant in March 1926 and left it at Gibraltar in March 1928. He somewhat intermittently kept a diary which together with his photographs cast a fresh light on life aboard
Venomous
and in the Royal Navy during peacetime.
Most of the following account is based on this diary and written by his son, Frank Donald, who was born two months before his father was killed at Boulogne on the 23 May 1940 while commanding HMS
Vimy
, a sister ship of
Venomous
. During this action HMS

Venomous

and six other V & Ws
evacuated 4,368 men of the Welsh and Irish Guards from under the nose of the encircling German army.

The contrast between the dramatic events at Boulogne in May 1940 and service on a V & W in the Mediterranean in the 1920s could not be greater. The Royal Navy's main role was to 'fly the flag' on Spring, Summer and Autumn cruses and maintain operational readiness by frequent exercises, maneuvers and inspections and morale and fitness by competing at flotilla and fleet regattas. They were also on hand should trouble break out in the volatile area off the Turkish coast where the Greco-Turkish war had just ended, to keep the peace when violence broke out between Arabs and Jewish settlers in Palestine and in attempts to stem the profitable slave trade in the Red Sea.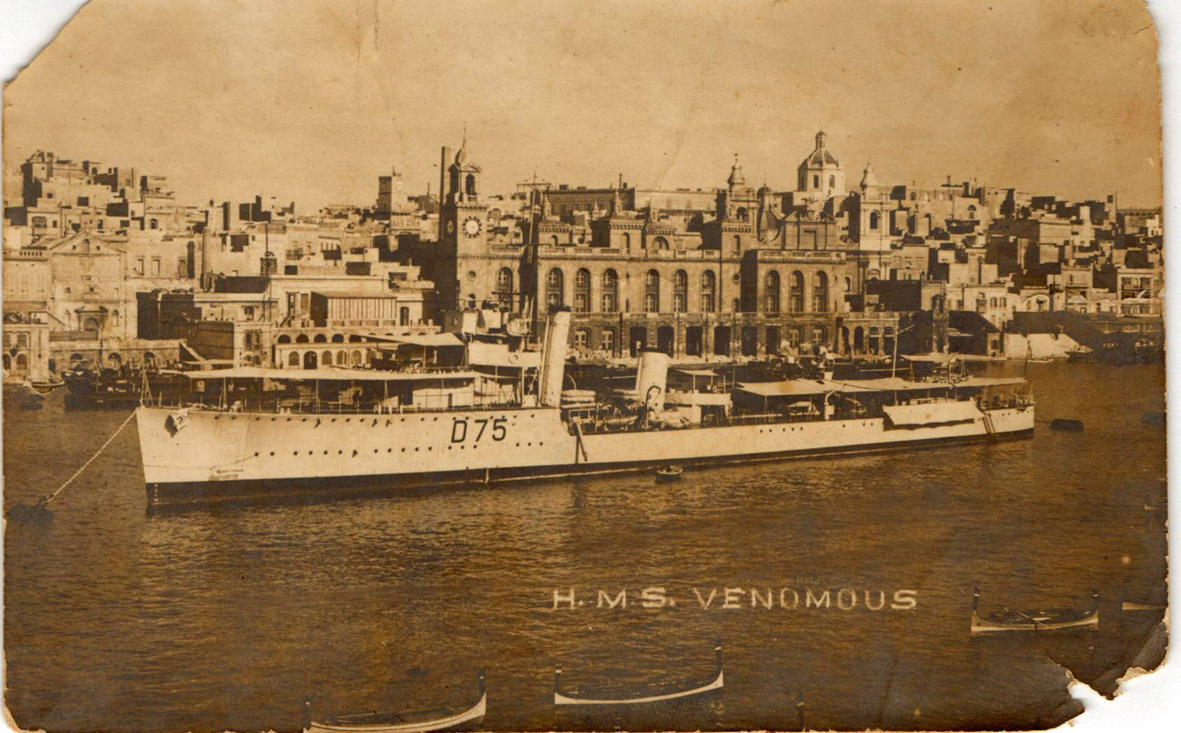 HMS

Venomous

moored in Vittoriosa Creek on the opposite side of the Grand Harbour from Valletta.

Vittiorosa was the centre of the admiralty's operations in Malta and the Mediterranean
Courtesy of Ralph Ayre

This seasonal routine is best illustrated by a battered postcard of HMS

Venomous

moored in the Grand Harbour at Valletta, Malta, and the photographs of its sister ship, HMS

Vimiera

, sent to me by Margaret East the grand daughter of Petty Officer Arthur Ruthven Atkinson (1896 - 1941) who served on HMS

Vimiera

as a torpedoman from 24 May 1924 to 27 January 1927. CPO Arthur Atkinson joined the Navy as a boy sailor in 1913 and was killed when the Ocean Boarding Vessel, HMS

Registan,

was bombed and sank off Falmouth on the 27 May 1941. His old ship, HMS

Vimiera

, sunk
with the loss of most of its crew
after hitting a mine in the Thames estuary on the 9 January 1942.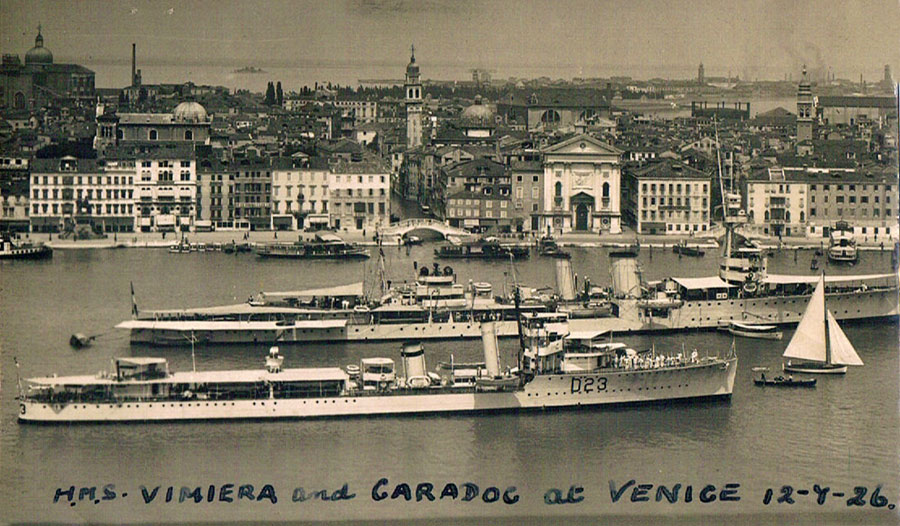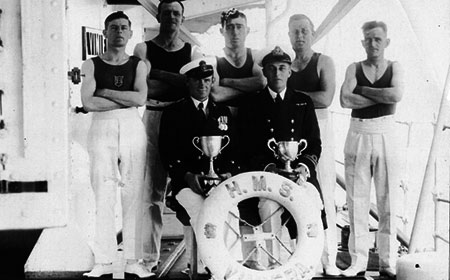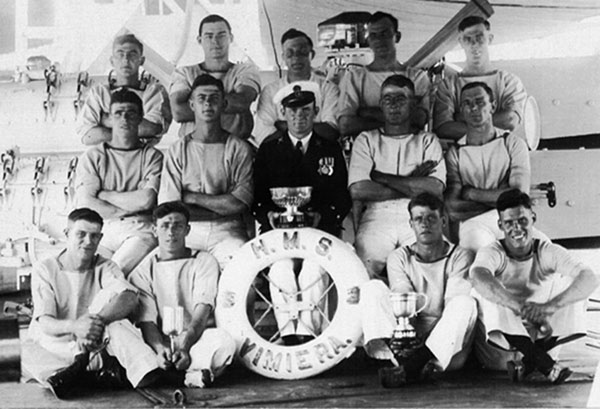 HMS

Vimiera

and the light cruiser HMS

Caradoc

photographed from the air in this familiar view of Venice
The winning teams in a pulling competition between the ships whalers with Arthur Atkinson second from right standing (left) and in the middle at the back (right)
Courtesy of Margaret East
Frank Donald takes up the story of his father's service as a junior officer on HMS

Venomous:



My father, Sub Lieutenant Colin Donald, joined HMS

Venomous

in refit in Chatham on 1 March 1926. He had spent most of his Midshipman's sea time in the battleship HMS

Malaya

, with three months small ships time in the V&W Class destroyer

Vivacious

, his first introduction to the class. During the uprising in Turkey which led to the takeover by Kemal Atatürk the

Malaya

was sent to Constantinople to evacuate the Sultan who was landed at Malta.

My father kept a diary intermittently and we first encounter him in the ship's office on 1 May, mustering forms with his Writer. Like all junior officers joining a small ship his first jobs were Correspondence Officer and Forecastle/Cable Officer. These twin tasks of submitting weekly, monthly and annual returns and being responsible for efficient operations on the Fxle, gave plenty of opportunity for earning the Captain's approval - or anger.

I held identical posts in the Coastal Minesweeper HMS

Chawton

in 1960-1, without a Writer but with a typewriter and a stack of carbon paper. My father does not appear to have been required to type.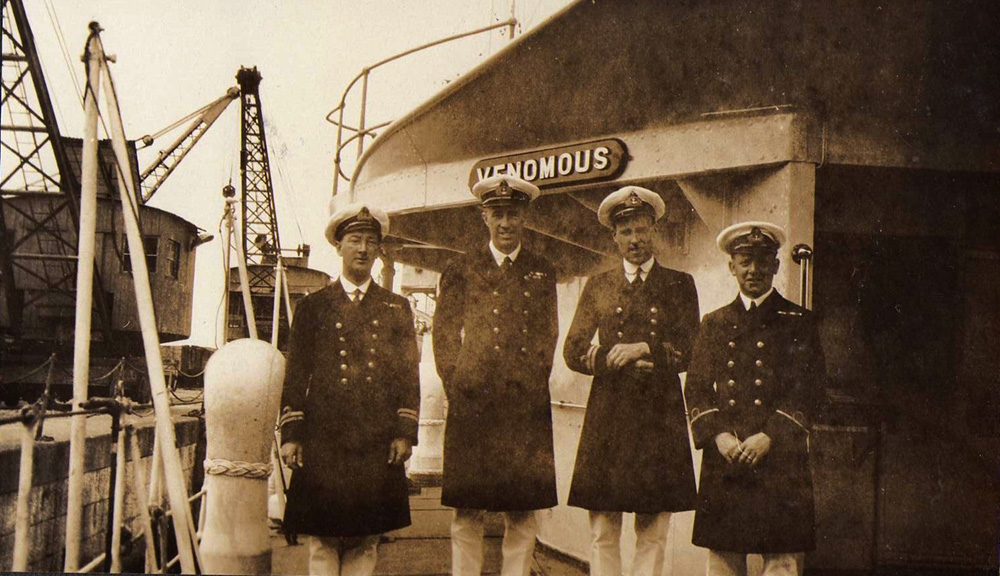 The Wardroom of HMS

Venomous

at Chatham after the refit in 1926 wearing the long frock coats and rounded collars typical of the period
From left: Chief (Lt L. Sims RN), Captain (Lt Cdr L.F.N. Ommanney RN), Lt E.P.H. Pinckney RN and Gunner (T) Mr Corby
Courtesy of Frank Donald



1926



He took over Lt Pinckney's cabin, which" became slightly more habitable once the large items of Pinckney's gear had departed". There was a strong possibility of a Coal Strike and rumours of a General Strike.

Venomous

delayed its sailing, scheduled for 3 May, by 24 hours in case her ship's company was required to assist. The Chatham Depot "was very warlike with Seamen in heavy marching order parading about all over the place".



Venomous

arrived in Gibraltar on 9 May with the 7th Division of the 4th Flotilla which was to take over the Tangier Patrol and remain at Gib for two months. Abdel el Krim (1882-1963), a Berber nationalist from the Rif Mountains, defeated the Spanish army and created a short lived Republic of El Rif (1920-6). To ensure the security of Tangier it had been made an international zone jointly administered by Britain, France and Spain by a convention signed in Paris in December 1923.

On 17 May

Venomous

relieved

Whitshed

on the Tangier Patrol. Armed boarding parties were told off though no reason was given and my father considered this would not last long. No communication with shore was allowed due to Bubonic Plague. He finally achieved his ambition of landing in Africa on 20 May, in company with Pinckney. They were constantly followed and pestered by small children wanting to be their guides and soon retired to the Cecil Hotel and from there to the Casino:


"I am unable to understand why people make such a fuss about Tangier. It seems to me to be a very ordinary place. What I like is being able to gamble so comparatively cheaply. You put on chip for twenty five francs and feel very expensive but it is only worth three shillings and three halfpence."


Visits to the Casino continued daily until 23 May when a Mrs Gill, who had been taken ill in the Cecil had to be evacuated to Gib. My father was heavily involved in organising the transport of the patient and her baggage, while making repeated calls on the Consulate and Legation to obtain the all important Bill of Health for the ship:


"A particularly exciting day and most energetic. I had a "day on". Mrs Gill, the patient at the "Cecil" was much worse today and the Captain was sent for by Mrs Roberts about 0930. He came off again at 1130 but at 1230 the flag was again flying on the "Cecil" and he had to go again. Just as the Libertymen were leaving the ship he sent off a signal that all leave was canceled and we were to raise steam by 1700. Things now began to move with great rapidity. I rushed ashore to see the Captain and to get the Bill of Health. I could not find the Consulate and pounded up the long hill to the Legation, only to find that there was no one in. I took the wrong turning on the way down and would have got properly wandered if I hadn't run into that old scoundrel Absolom who showed me the Consulate. Of course there was no one there either! I returned to the Cecil and told the Captain and he sent me down to the boat to organise the stretcher party and make arrangements for his bed being brought ashore.

I did all this and after another fruitless call at the Consulate went back to the "Cecil" where I was told to arrange for Mrs Gill's luggage to the pier, get it through the Customs and into the motor boat. I managed this with the help of a very rickety Ford for the first item and and when I got back to the Cecil I had to help lift Mrs Gill out of bed into the stretcher and I then rushed onto the pier and got all ready for her reception. Eventually we got her onboard and I rushed up on the FX and weighed. After that I sat down for a bit. We went over to Gib and an ambulance took Mrs Gill away to the hospital. Altogether a fairly exhausting day as the sun was very hot."


By 28 May it was expected that as a result of the surrender of Abdel Krim the ship would soon be on her way to Malta. My father had enjoyed Tangier and was disappointed that "Abdel Krim has let us down badly and we will soon be on the way to Malta".

In Malta, as in other naval bases, a berth alongside was a rarity. Battleships, Cruisers and Carriers lay to buoys in Grand Harbour. The destroyers secured to head and stern buoys in Sliema Creek (as they still did in the late 1950s) on the other side of Valletta. Ships secured by going astern up the creek which required smart ship handling, particularly in a cross wind. Officers and men went ashore in the ships boats or hired one of the local

dghaisas

, similar to gondolas with eyes on each bow, as a water taxi. A

dghaisaman

might adopt a ship and always be on hand if required.



HMS

Venomous

moored in Sliema Creek, Malta, with canvas awnings fore and aft and decked overall in flags
Courtesy of Frank Donald

The diary resumes on 7 October, with

Venomous

secured alongside the battleship

Resolution

at Famagusta. The next day he set off at "an unholy hour" to Nicosia to take part in a cricket match. He was put up by "a funny little man called du Boulay", the Colonial Treasurer. Mrs du Boulay was a "very nice and well turned out French creole", and her daughter Flavia "was not really pretty but a cheerful and friendly character who had plenty to say for herself". Mr du Boulay had known my father's Uncle, Col George Newstead (killed 1915) in Sierra Leone before the war. The Naval team batted first and declared at 258 for 6. My father contributed 4 before being declared out LBW, though over lunch the umpire was heard to declare reservations over whether it had been a correct decision. The opposition was all out for 160. The

Resolution

's band had played throughout the game "which was rather disconcerting". My father had to return onboard on 9 October but continued to see Flavia du Boulay until the ship sailed for Malta on 12 October.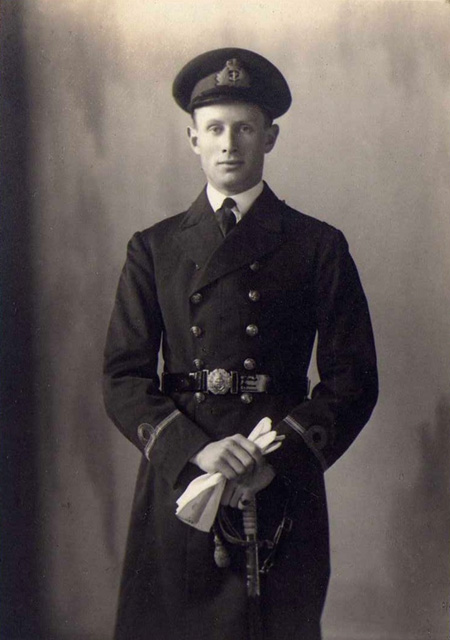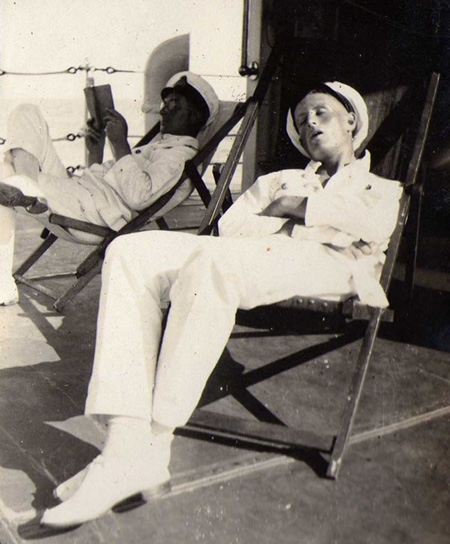 Studio portrait of Sub Lt Colin G.W. Donald RN in frock coat with sword and in tropical uniform

relaxing

aboard ship while the Chief reads

Courtesy of Frank Donald


1927



Venomous

was at Malta at midnight on New Year's Eve 1927 when my father, as the youngest officer in the ship, struck 16 bells to welcome in the new year. In the forenoon lots of people came over to see 'Om' (the Captain, Lt Cdr L.F.N. Ommanney RN) and congratulate him. Mr Corby (Gunner T) "was very biffed at lunch with the usual result". He slept until 1215 next day!

My father had taken up polo and played on 3 January. His pony was very frisky: "Scamp, not having had any exercise for a week, did his best to bolt and nearly succeeded once. Mountbatten's ponies have arrived. They are a picture, tho' how he will exercise eight of them out here I cannot see".

The new Captain, Lt Cdr Rushbrooke, arrived on 8 January. It was the season for gales (

Gregale

) at Malta, and it was "blowing like hell" when the Fleet sailed for Greece.

Venomous

had quite a job unshackling from her buoy and securing the forecastle once outside took some time.

Whitshed

grounded in Msida Creek coming out but got off again. They arrived in Phaleron Bay off Athens on 13 January. The weather continued windy and rough, which caused relations with the new Captain to sour. At 0415 the Captain ordered another anchor to be let go "and then cursed me because I put it on the brake; the only sensible way. Kept anchor watch on the bridge in pouring rain". The whole Fleet shifted berth to Piraeus. "When we tried to anchor the capstan jammed. Tableau!! In the forenoon the Captain sent for me and gave me a sermon on how much I had let him down". En passage for Navarino on 20 January "I got out of line avoiding

Whitehall

and the Captain was again moved to wrath as I had not told him. Some allowance should be made for his newness, I suppose".

On the 6 October the Fleet arrived arrived in Famagusta. My father was very pleased to get a letter from Mrs du Boulay asking him to come and stay with them for as long as he could. After a day of hard work to get the Ship's Office business done, and a hitch because the Captain would not sign papers in the evening he escaped to Nicosia and the company of Flavia du Boulay on 8 October. On after dinner 13 October he was forced to say goodbye and start on the "doleful trek to Famagusta" in the du Boulays' car. "I was very sorry indeed to go and I really know of no people with whom I would rather stay. They are amusing and friendly and they do not worry you in any way. I very much wonder if I shall ever see them again. I certainly hope so".

On 15 October the Fleet arrived in Haifa. My father decided that he had neither the time nor money to go to Jerusalem, but hired a car with the Chief, the Gunner and the Midshipman and went on an excursion to Nazareth and Tiberius. He found both disappointingly modern. On the way back they "stopped by an Arab mud hut and I took a photograph of the Chief, suitably garbed with a napkin round his head, holding a small and most reluctant Arab brat in his arms!"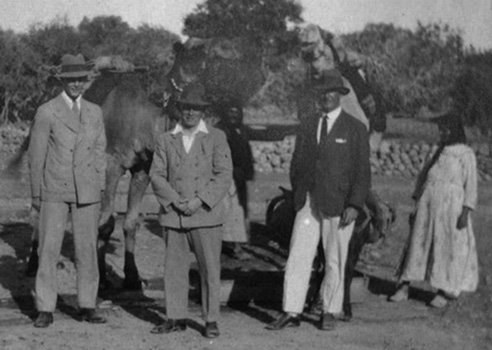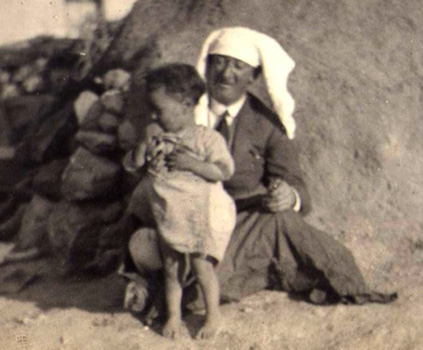 The 'snottie' with the Gunner and "Chief" pose with camel at Cana of Galilee where the water was turned into wine (left)
The "Chief" with napkin round his head poses with reluctant "Arab brat" (right)
Courtesy of Frank Donald

The Fleet sailed for Malta on 21 October. They arrived at that "infernal hole" in pouring rain and "there was quite a decent lop on so of course the flotillas oiled outside.

Vansittart

parted three wires and we bent three awning stanchions under the

Brambleleaf'

s (the tanker) flare. The troops worked very well shackling on (to the buoy) and we got finished very quickly. I was glad as it may be the last time I have to do it".

On 2 November the occasional skirmishing with the Captain over periodic returns resumed. "Had a row with the Owner about Med Form 10, but we kissed and were fairly good friends after".

On 4 November my father finished T E Lawrence's book "Revolt in the Desert" the most interesting book he had read since coming to the Mediterranean Station. He talked about the book to his Captain of the Fxle, PO Langford, and found that he had been in the Red Sea at the time in HMS

Northbrooke

and had frequently taken Lawrence ashore at night when the revolt was being planned, "Colonel Lawrence, why he was responsible for making me ride sixty miles on a camel!"

On 11 November the ship's inspection was looming and my father:


"spent all day preparing for the inspection. Everything was really looking very nice indeed. After dinner, just as we were putting out all the books there was the sound of a mighty rushing wind and the rain came down in torrents for about two hours. It really was pretty sickening after the way the troops had worked. I took a look at the remains of my Fxle about 2330 and found Langford surveying the damage. We started talking and it was about 0030 before we finished. I promised him that I would go and see his mother if I was near Portsmouth which pleased him."


12 November


"The great day. Up at 0615 and encouraged my chaps. They did not need any encouragement however as they were all digging out like beavers. 'Daddy'(Captain D4) arrived at 0930 and he was in his most benign and vague mood. He chose Kilbee and Way from the division for bag and hammock, which could not have been better as they were both were excellent. The division looked very well but the length of the hair was pretty appalling. I should imagine that something will be said about that in the Inspection Report. 'Daddy' wandered round the ship and among other places he inspected my cabin. We discussed my books and pictures for about five minutes and he was very pleased with one of my old naval prints. We had quite an amusing time at General Quarters and he seemed to like my loaded stick as a means of repelling boarders. TO4 (Flotilla Torpedo Officer) managed to fall into the bilges of the Warhead Magazine and was patched up by the Gunner. I think that on the whole it was a very good inspection though no one can tell until the report comes through".


On 20 November, on the way back from a fairly hectic evening at the Officers' Club my father and his friends were followed by a black kitten which made such a pitiful noise that he took it onboard. Alas the kitten fell overboard during the night a week later and was to be seen floating alongside the following morning.

21 December


"
Whitshed
have managed to excel themselves again. They have been reported to Rear Admiral Destroyers and Naval Armament Stores Officer for returning a misfired pom pom cartridge in a full box. They have had the box onboard and in the magazine for a year. As NASO has had the box and examined and resealed twice it looks as if both parties will be badly stung".

25 December


"I went to Church at Holy Trinity, Sliema at 0700. The Owner (Captain) and his Mrs and mother-in-law came onboard about 1100 and actually had the temerity to go rounds. I don't know what the Owner was thinking of to allow it and it struck me as scandalous. We had quite a good rounds, the Stokers being the only people tight and I managed to get away with two tots. Langford and I then had our photographs taken. We then went and sat for hours in the Owner's cabin and sweated profusely. Some of the Stokers got worked up about the Chester Cup and came aft, but the Chief and I managed to soothe them. Eventually we got shot of the females and were beginning to think of having lunch when "Hut" and his party suddenly arrived. They stayed for about twenty minutes and by the time they left everyone was pretty shot away. As OOD I was TT which was just as well.

After a most hilarious lunch we all slept heavily till tea. Everyone appeared except the Chief and he was eventually wakened at 1850 by bursting balloons in his face! He then came down to the wardroom in his vest and pants and drank two "horse's necks". We all dressed up for dinner which was a repetition of lunch and then No 1 and the Snot went over to the Waterhen. They came back about 2300. From the point of view of the OOD it was a very peaceful Christmas and the troops were very good. Nevertheless I am always glad when it is over".




1928



New Year 1928 at Malta was seen in fine style, "the only low note being that the Snottie struck 22 bells instead of 16! Nothing but force would induce him to stop". The ship moved to Dockyard Creek, off Grand Harbour, on 4 January to de-ammunition and docked on 5 January.

In the next few weeks there were a spate of accidents:

17 January


"
Viceroy
arrived in harbour this afternoon with part of the starboard side of her FX crushed in due to hitting the
Cyclops
while leaving Lazaretto."

25 January


"The
Caledon
arrived this morning looking a very sad and sorry sight. She must have hit the "
Antares
" an awful crack. Her stem casting is either gone or bent round to starboard: luckily her collision bulkhead held or I don't know what would have happened. I am told that Roope was OOW and so he and the Captain are both of them for it. Anyway R. will have the melancholy satisfaction of knowing that he has had a magnificent smash to finish his career."

3 March


"Great excitement about 1230 this afternoon when a tramp steamer rammed the
Queen Elizabeth
, smashing her stern walk and carrying away her wires. The tramp had her bows very badly knocked about."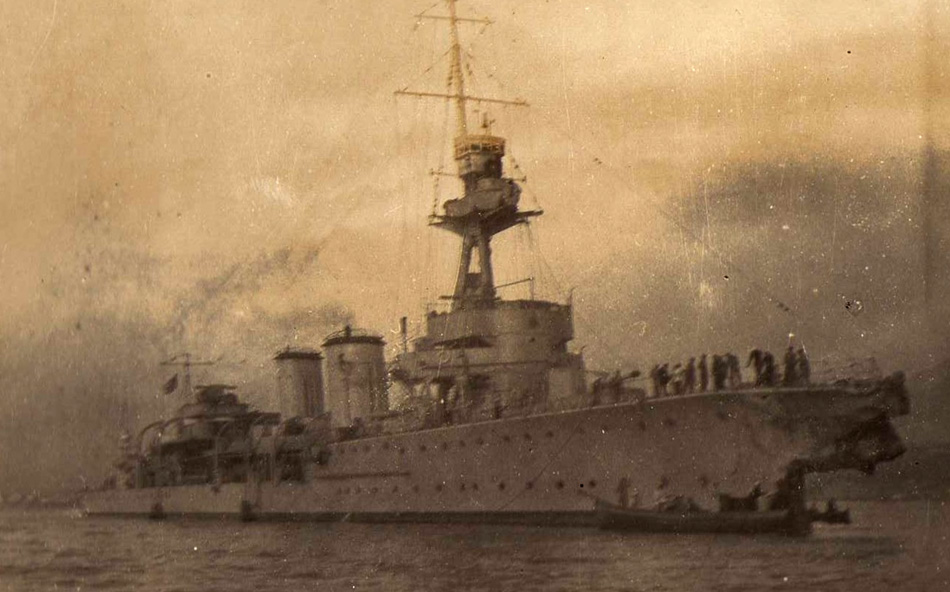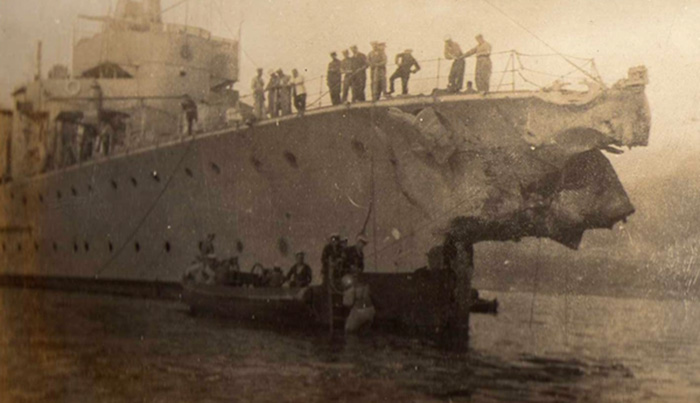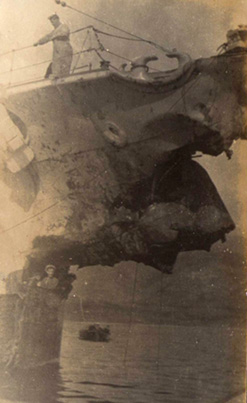 Three photographs taken at Malta by Lt Colin G.W. Donald of HMS

Caledon

after its collision with SS Antares

Note the diver going down to inspect the damage (lower left) and the man standing at water level in the bow (lower right)
Courtesy of Frank Donald

On 29 January my father's disapproval of the Captain's wife again manifested itself. "Mrs Rushbrooke came down to the wardroom in the forenoon and stayed for about an hour listening to gramophone records. I do hate women in the mess". He had a point – the wardroom was the home of the ship's officers, while even in small ships the Captain messed separately. To be fair the officers often borrowed the Captain's cabin to entertain guests . My father was promoted Lieutenant on 28 February.



Venomous

remained in dockyard hands until 7 March when she went to sea for a steam trial. On 8 March the Fleet sailed for its spring cruise and arrived at Gibraltar on the 12th:


"Had an awful time shackling on. I was furious and so was everyone else and we had a grand hymn of hate before lunch". They were soon back at sea for combined exercises "in the most beautiful weather. We did nothing very much on the 14th and still less till the night of the 15th. We had to do a night attack and we spent hours searching for the enemy. At last we found them about midnight and made our attack unseen. We then started shadowing and after about half an hour we came on the Eagle, a battleship and two destroyers. Luckily they spotted us and at my suggestion the Captain very gladly put the ship out of action and we packed up. He then slept till 0300 when he relieved me for an hour which I thought was very decent of him".


The ship arrived back in Gib in the forenoon of 16 March which was my father's last day at sea in

Venomous

. On 22 March he said goodbye to everyone and they shared a bottle of bubbly in the wardroom:


"I was very much afraid I was going to howl when I said goodbye to the chaps but I just managed to hold out.


I am sorry to leave destroyers and more so to leave such a good ship as the
Venomous"
.
He took passage home in the battleship
Benbow
:
"They only made me keep one watch, and that as second OOW which made me rather angry".

There was a very lively social life in small ships during the 20s. There were frequent visits between wardrooms, either by invitation or uninvited "raids". There were runs ashore with

Venomous

shipmates to the Club or sundry bars. There were term mates from Dartmouth and shipmates from the

Malaya

gunroom to be visited, lunched or dined with on the other ships of the Mediterranean Fleet .

There were families ashore who would entertain junior officers. We have already met the du Boulay family in Cyprus, and in Malta my father was very close to "Geordie Nelson", his wife and small daughter, known as "The Pumpkin", who lived in Sliema. "Geordie" was an officer in the Destroyer Depot Ship

Sandhurst

and my best guess is that he was Paymaster Commander Donald H Nelson, whose seniority as Paymaster Lt Cdr had been 1 Nov 1914.

There were ship's cocktail parties and dances, and private ones too, some with bizarre happenings. At the end of a dance at Sliema:


"when all the guests had gone No 1 and I and a few others had an awful job trying to get rid of the pipers, who were all amazingly drunk. One was pugnacious and maudlin by turns and was most amusing. By the time we had got rid of these braves it was about 0315 and we were all very glad to go home to bed".


Junior NOs seem rarely to have be in bed much before 0100 and appear to have drunk more than we did in the 60s.



There was plenty of exercise taken. My father played tennis and squash, though rarely as well as he would have liked. The main team game was hockey, between ships or flotillas, or the flotilla and the large ships. My father had come second in the Bayonet Fencing championship at Dartmouth in 1920 and during the last stay in Malta he organised and trained a ship's team which did very well in the Fleet completion. The diary only mentions polo twice, during the first winter in Malta, so it may have proved too expensive. Club and Mess games included bowls, billiards and shove-ha'penny.



While

Venomous

was part of the Reserve Fleet at Chatham and Rosyth Lt Colin G.W. Donald RN had a varied and interesting career ranging from keeping the peace between Arabs and Jews during the Palestine disturbances of 1929 to studying in Germany to qualify as an interpreter and meeting Doenitz aboard the

Emden

on a visit to South Africa and being given an inscribed photograph as a momento of the occasion.
---
Holywell House Publishing
88 Holywell Hill, St Albans, Hertfordshire AL1 1DH, Britain
http://holywellhousepublishing.co.uk
Telephone: +44 1727 838595
contact online
---